Asthma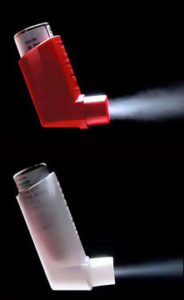 This is a brief but useful reference on some information regarding the transition from traditional CFC (chlorofluorocarbon s) MDIs to non-CFC inhaler/MDIs, in this case the HFA (hydrofluoroalkane) MDI.
In the works for over 10 years, the FDA ban on the production and sale of CFC MDIs becomes effective 31 Dec 2008. It is hoped that by banning CFCs, we will protect and preserve the ozone layer.
Unfortunately, each has different storage, shelf life, cleaning and use instructions. For example, the HFA should be replaced every 3 months or after 200 sprays. Some of the specifics will vary by brand. Although both CFC and HFA should be primed, priming is more critical in the HFAs. Please note the reference to OTC epinephrine inhalers. These non-prescription (e.g., Primatene Mist) devices do not work nearly as well as beta agonist MDIs and are not a substitute for injectable epinephrine for anaphylaxis. These may also be phased out for the same reason.
Thanks to Brad Sablosky for bringing this article to my attention.
HEALTH | May 13, 2008
Rough Transition to a New Asthma Inhaler
By LAURIE TARKAN
For many people with asthma, the transition to CFC-free inhalers will not be an easy one.