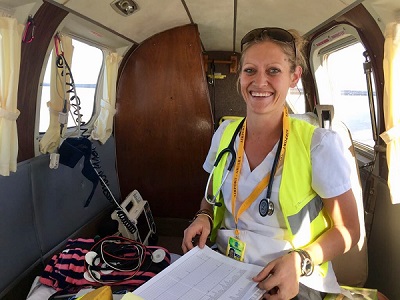 Melanie Musselman
Location:
PA, United States
Certifications:
BSN, RN, DTN, PHTLS, CALS, BLS, and WFR
Description:
Melanie is a Registered Nurse currently working as the Medical Team Lead and flight nurse for a medivac company based in Tanzania.  Originally from Philadelphia, she has been living and working in East Africa since 2010.  During her years in this region, she received a Diploma in Tropical Nursing while working in remote communities on Lake Victoria in Uganda.  Over time she developed awareness of the health needs, systems, and resource limitations, which has led her to shift her focus toward pre-hospital emergency and transport medicine.  She is dedicated to equipping first responders with lifesaving skills in bush areas and recognizing their link in the greater picture of emergency and trauma response in vast resource limited settings across the East and Central African regions.
In addition to her medivac roles, she consults to provide personal nursing care as well as first aid and trauma trainings to people working and or traveling in remote bush settings.  In her spare time, she enjoys spending time being active outdoors, riding motorbikes, in the bush, exploring new areas, and is committed to supporting conservation efforts in East and Central Africa.