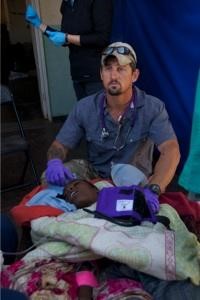 Nicholas Gaines
Location:
TX, United States
Certifications:
18D Special Forces Medical Sergeant, NREMT-P, ATP, PHTLS, PALS, TCCC Provider, Instructor
Description:
20 years Emergency Medical Experience: Specializing in Austere Medicine. Graduate of US Army Special Forces Medical Sergeant Course (SFMS), Special Operations Combat Medic Course (SOCM), Advanced Tactical Practitioner (ATP), National Registry Paramedic, and Army Combat Medic Course.
R&D Lead/Survival Instructor/Field Medical Advisor for LSDS
Survival Instructor/Field Medical Advisor for Freedom Defense
TCCC Instructor for ADS Medical Support
Wilderness Medical Associates Instructor
Commercial Fishing: Deckhand on a commercial fishing vessel in Alaska.
Backcountry wilderness experience: to include Backpacking, Mountaineering, Climbing and Kayaking in North and South America, Europe, Asia, Africa and Australia.
Survival Expert: Graduate of US Army SERE Level C and Peacetime Detention course (Survival, Evasion, Resistance and Escape)
Military Experience: U.S. Army Special Forces (Green Beret) with deployments to the Middle East and South America.
Project Manager and Senior Carpentry Foreman: Supervises daily operations including management of personnel and equipment, bid and planned jobs, read blueprints, and advised engineer on practical solutions to structural issues. Lead evaluator in hiring new personnel, mentored and instructed company personnel. Insured quality control and enforced company standards. Facilitated company expansion and growth through research, concept development, and the application of cutting edge equipment and techniques.
Utility Inspector/ Trimble GPS Mapping Operator: Worked for Protech EIS inspecting, marking and mapping steel and poly pipeline. Responsibilities included quality control, safety and accuracy of the As Built for pipeline operations and construction.
Other interests include: Adventure Racing, Mountain Biking, Sailing, Mountaineering, Functional Fitness, S.C.U.B.A. Diving, Parachuting, Trail Running and Adventure Travel.
Certifications:18D Special Forces Medical Sergeant, NREMT-Paramedic, Advanced Tactical Practitioner (ATP), Advanced Cardiac Life Support (instructor), Pre Hospital Trauma Life support (PHTLS), Pediatric Advanced Life Support (PALS), Tactical  Combat Casualty Care (TCCC Provider), Wilderness First Responder (Instructor), CPR (Instructor), Special Forces Qualification Course Spanish, Survival Evasion Resist and Escape (HR) with Peacetime Detention Level C, Advanced Leaders Course, Warrior Leaders Course, Airborne, 68W Army Medic Course(with Combat Medical Badge), 4F Air Force Aeromedical Technician Course, Also attended the Mountain Training School.