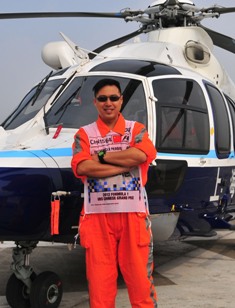 Samson Cho
Location:
China
Certifications:
MD, WEMT
Description:
Dr. Samson, is the Chief Surgeon and Chief of Department of Orthopaedic Sports Medicine & Arthroscopic Surgery at Shanghai St. Michael Hospital.  He involves in writing about professional medicine for medical textbooks and scientific journals, and also actively organizes different international medical training workshops and conferences keeping up with up-to-date technologies. 
Dr. Samson is a medical consultant at various sports teams, outdoor clubs and cycling teams. He is now the Medical Consultant for "Shanghai Cycling Sports Association", Chief Medical Officer for "Shanghai Cycling Race" and "Shanghai Triathlon Race". He provided medical service in Olympic Game, Formula 1 Grand Prix, FINA World Championship, FIA World Endurance Championship, ISU Grand Prix of Figure Skating, ISU World Short Track Speed Skating Championships, IAAF Golden athletics League and circus "Saltimbanco".
Dr. Samson is very passionate in sports, the sports he had been well trained included rock climbing, mountaineering, scuba diving, cycling, orienteering, canyoning, volleyball, soccer, athletic, cross-country. He represented Hong Kong and got Silver and Bronze medal at 1996 Asian & Pacific Orienteering Championships. He is a qualified rock climbing instructor, advanced personal fitness trainer and rescue diver.