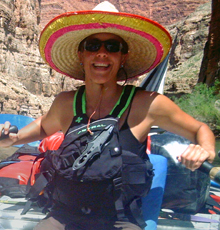 Sarah Boyle
Location:
WA, United States
Certifications:
EMT-B, WEMT
Description:
Sarah is an outdoor enthusiast with ten years of experience in outdoor recreation and emergency medicine. She is an active member of the North Olympia Fire Department, where she volunteers as a firefighter and EMT. Sarah also works closely with Thurston County Medic One to educate and train first responders to be prepared for urban medical emergencies. 
Sarah holds multiple degrees, including a Bachelor's degree in English Composition from Westminster College in New Wilmington, PA, and a Master of Environmental Studies degree from The Evergreen State College in Olympia, WA. Her academic experience has allowed her to work in the trenches with the oil spill response community in Washington State since 2007. She is also certified as a Massage Therapist and Reiki Practitioner.
In addition to teaching for WMA, she co-owns a catering/BBQ business, EZ Foods Olympia, with her boyfriend Jeff. And just for fun (and free beer), she also works for Fish Brewing Company in Olympia, WA, where she supports the growth of the craft beer culture in the Northwest. 
In pursuit of awesomeness, Sarah enjoys sea kayaking, sailing, whitewater rafting, hiking, camping, gardening, reading, and watching football.