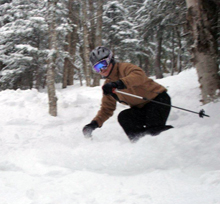 Vicki Wharton-Goodman
Location:
ME, United States
Certifications:
WEMS
Description:
Vicki's earliest, fondest and life-long memories are of how much she loves and enjoys the outdoors. Having grown up on Cape Cod and lived a lot in NH and ME she has had ample opportunity to enjoy her favorite places: salt & fresh water beaches and the mountains.
After working her way through all levels of swimming instruction, water safety and rescue as a youth she worked for many years teaching swimming and Lifeguard Training as an adult. Her dad got her out hiking and taught her how to ski at age 5. She has worked as a Ski Patroller in NH and ME for 30+ years. She and her husband also enjoy back country skiing. They enjoy a country life style in the west-central foothills of ME prepping firewood, organic gardening, cycling, and ski-touring right from the house.
Surfing and paddle boarding are big in her family too at beaches from southern ME to Cape Cod. They are all well aware, concerned, and involved with local citizens' groups regarding the dangers from a growing population of Great White Sharks due to the overpopulation of seals in the waters off of Cape Cod.