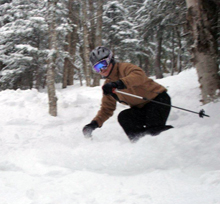 Vicki Wharton-Goodman
Location:
ME, United States
Certifications:
WEMT-B
Description:
Vicki loves to ski; she has worked as a ski patroller in NH and ME since 1983. She currently works as a Pro-Patroller at Wildcat Mt. in NH, which is located across the road from the AMC Pinkham Notch base camp access to Mt. Washington. Vicki and her husband, Steve, and their friends enjoy back country skiing in this area.
Vicki also has a life- long love of the ocean and many lakes and ponds of New England. She grew up on Cape Cod and completed all Red Cross swimming programs through Junior Life Saving as a child. As an adult, she became a Life Guard and went on to teach Lifeguarding for many years through the YMCA. Recently, she and her husband are pursuing a new passion for surfing. They are learning to ride the waves of Southern Maine and the Cape Cod National Seashore.
Vicki has been with WMA since 1997. She and her husband live in the west-central foot hills of Maine where they enjoy a country life style which includes organic gardening, bike riding, paddleboarding, swimming, cross country skiing and hiking, all right from the house.