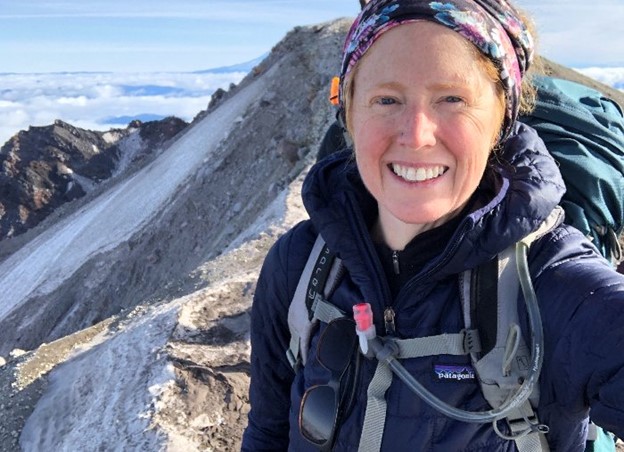 April Grisetti is a Physician Assistant, Volunteer, and WMAI Instructor based in Portland, Oregon, where she currently lives in a floating house tethered to a dock on the Columbia River. Born on the East Coast and raised on five acres in rural southern Virginia, April moved to New Mexico for college and spent twelve subsequent years in Sante Fe working as a PA, ski patroller, search & rescue volunteer, and WMAI instructor before moving to Oregon. 
April's introduction to wilderness medicine started after a near miss she and her partner experienced hiking Mt. Wheeler in New Mexico. After suffering from mild hypothermia, her partner's sprained knee, and very close calls with lightning strikes in scree fields, April sought out a wilderness medical course. She found a WALS course being taught at a wilderness medical conference by Jeff Isaac and Will Smith. The course gave her so much confidence that she became motivated to share her knowledge with other people. She knew there were people out there who had similar experiences and she wanted to help people prepare to stay safe, stay consistent, and minimize risk. It was after her WMAI course that she became a ski patroller and began volunteering for the local search and rescue.  
April took her IT in Saranac Lake, NY in 2009, assisted for many years with experienced instructors like Carl Gilmore and Cy Stockhoff, and became a lead instructor in 2012. In 2013, April needed a big change, packing up her truck and her dog to establish a new home in the Pacific Northwest. She took a job as a PA and started volunteering with Team Rubicon, an NGO serving communities by mobilizing veterans to continue their service, leveraging their skills and experience to help people prepare, respond, and recover from disasters and humanitarian crises. Despite the fact that April is not a veteran (Team Rubicon also accepts volunteers with medical certifications), she has been involved with the responses to multiple hurricanes, including Harvey, Maria, and Dorian. April also volunteers for Portland Street Medicine, a volunteer organization composed of medical providers, nurses, and social workers who provide basic health care to the homeless and act as a transitional force to resources. She has also worked as the set medic for a reality TV show in northern New Mexico, called "72 Hours" – the premise being contestants had three days to find a briefcase of money. In the totality of filming, April treated every kind of preventable wilderness injury one could get including the multiple injuries sustained by contestants when the producers decided to overload all of the contestants' canoes. Not surprisingly, they all capsized simultaneously.  
These days, when April isn't working as an urgent care PA, responding to natural disasters, or teaching WMAI courses all over the country, she enjoys paddle boarding, skiing, trail running, and hiking. As of 2019, she has earned her Fellowship in the Academy of Wilderness Medicine through Wilderness Medical Associates. 
WMAI: "What is the one thing every person teaching wilderness medicine must know?" 
April: "Relay to students that they should use every second of time in this class and avoid letting one second of this class go to waste. You only do this once every few years and you have plenty of time to forget, so use your investment wisely. Keep your materials around and frequently reflect, look at your notes, and read case studies before you go back in the field to keep it fresh." 
WMAI: "Do you find the skills learned in WMAI courses transferable to other situations, e.g., school, work, play, etc.?" 
April: "Many times – a personal example that comes to mind happened while I was climbing with friends at Smith Rock in Oregon. A woman we didn't know was lead climbing and missed her clip. She broke her ankle and I was the first responder. Her husband came back the next day and gave me a six-pack of beer! Not long after this, I myself was the patient. I was hit by falling rock (also at Smith Rock). The people treating me had no first aid supply, so I had to instruct them to get the first aid supplies from my pack. It was frustrating to see other outdoor enthusiasts be so unprepared. I had to go to the ER and had a mild TBI with multiple lacerations requiring repairs. The major takeaway of the experience was my thought of my students – do I trust them to help my loved ones if they were sick or injured? Or me? Teach them the way you would want to be treated, because they may be the ones saving your life." 
WMAI: "What are the defining moments of your career thus far?" 
April: "A few years into my career there was a big search and rescue mission in Sante Fe for a missing hiker. It initially seemed like a straightforward mission, but the weather was turning. It was late spring and there was a mix of winter-spring weather. We sent out a ground pounder team headed toward the hiker's last estimated location. I was sick with a GI bug so I was assigned to help with air operations, rather than try to hike at altitude with gear. The state and National Guard decided to send a helicopter and pick up the missing hiker before the weather set in. By the time the helicopter picked her up around 12,000 feet, the weather had turned and the helicopter crashed, killing both the pilot and the hiker. The co-pilot ultimately survived. The rescue then escalated, multiple agencies became involved, and it became an incredibly stressful mission. I was forced to adapt and was thrust into a role in which I had no previous knowledge, and had to manage stress working with people I had never met. I was eventually assigned to set up a medical station for all returning rescuers in the ski area's cafeteria and to assess the hiker's partner who had been separated from her before the mission and had already been found. It was a lesson in flexibility and adaptation to changing circumstances. It reinvigorated me and gave me a bigger drive to be a part of volunteering in unpredictable environments, and upon reflection, I came out feeling motivated, taking more preventative measures to benefit team members in the future, and of course, intense sadness of the way that it went down. The whole team, including me, grew as a result."  
WMAI: "What do you believe are the key attributes to a successful wilderness medicine professional?" 
April: "In addition to continuing to educate oneself and evolve as an instructor, I'd say 1. Flexibility, 2. Integrity 3. Humility. I've been humbled enough in my career, and know to bring humility to each situation I encounter."