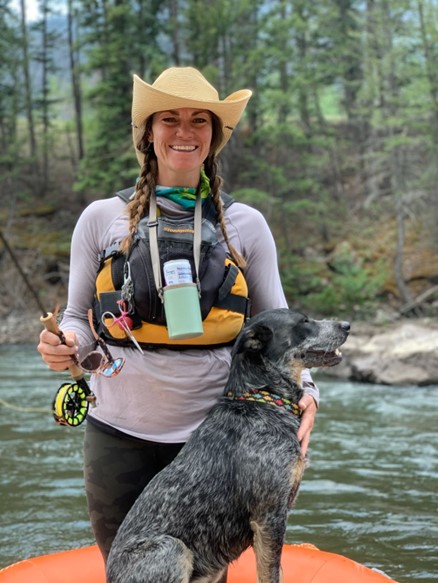 Chelsea has been an instructor with WMAI for the past six years. Chelsea's journey with wilderness medicine started when she took a WFR course in 2008 during her junior year at Fort Lewis College. She had spent the previous few years earning an Associate's degree in Ski and Snowboard Business at Colorado Mountain College in Steamboat Springs, and was then working on a Bachelor's degree in Exercise Science at Fort Lewis College in Durango. 
After graduating in 2011, Chelsea moved north to Silverton, Colorado, to backcountry ski, take her EMT course, and immerse herself in ambulance work. These pursuits soon led her to paramedic school and a move into the Assistant Director role for the Silverton Ambulance Service. For the next five years she worked in Silverton's very rural atmosphere and became involved with the San Juan County Search & Rescue, where she learned a great deal about avalanche rescue and safety.  
Chelsea eventually decided that she wanted to acquire more patient care experience, so she earned her firefighter certification and joined Durango Fire for seven years as a full-time firefighter paramedic. She ended up missing rural medicine, so in December 2021 she ventured back to the mountains and accepted a full-time position at Telluride Fire as a Lieutenant Firefighter & Paramedic. Chelsea is ecstatic about this job, telling us, "It's really dynamic. I've never been able to be part of a system that gives you that amount of time with a patient because in most places, even in places like Silverton, I only provide patient care on scene and during transport. Once you hand them off to the ER, you clean the ambulance and head back to the station.  In Telluride however, after I drop the patient off at the local clinic/ER, we integrate with the ER staff and continue care since the ER typically only has 3 people staffed at a time. Once a patient is stabilized, we'll work with the physicians to determine where to take patients and how to get them there either by ground or air resources. Changing weather and conditions often effects our patient's disposition and makes for fun problem solving and challenging medicine." 
Commenting about a big reason she became interested in wilderness medicine, Chelsea offered: "On one of my first times wakeboarding, my friend dislocated his hip and we had no form of communication.  He was stuck in the water, we had no first aid training, and I was feeling completely helpless. It was one of the worst feelings in the world – just wanting to be able to help someone and everything I did just felt like the wrong move." 
When she isn't saving lives, Chelsea does a lot of bow hunting, and can be found fishing the Animas and San Juan Rivers and all the little streams and creeks nearby. She loves hiking with her dog, skiing, and snowboarding, and takes advantage of the month and a half season in Colorado where she can river surf, a passion that she discovered while growing up in California.
WMA: If your students could only walk away with one skillset or bit of knowledge, what would you want them to take away from a course? 
Chelsea: That they have been taught everything they need to know.  Now they just need to go out and actually apply the skills. At some point, they will begin to gain a sense of confidence in knowing that they can quickly regain a feeling of stability and make good decisions when things feel really crazy. I teach them that if they are having one of "those" moments, "Remember, just take a deep breath, and know you will get through this." 
WMA: Do you think the skills taught in wilderness medicine courses are transferable to other situations like school and work?
Chelsea: Our courses teach people to be ready for change, adapt, and react accordingly. That's life. Life is always going to be throwing you new challenges. In addition, I feel like our courses give students a really great sense of what scenarios to expect with patients in the field, how to adapt to changes in weather conditions, how to use the resources available to solve problems, and how to adapt when things don't go according to plan.