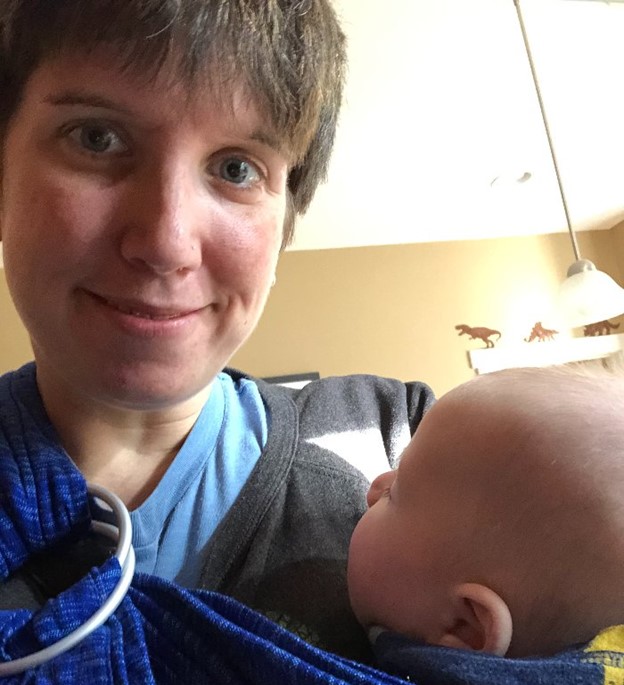 CK Raynes Wilder is an assistant instructor for WMA, ER Doctor, and mom! Born in North Carolina, CK went to college in New England and became an EMT. She fell in love with medicine and considered a career as a veterinarian before ultimately deciding on medical school. After medical school at UNC, CK headed back to New England for a family medicine residency. While living in Maine, CK became interested in wilderness medicine, enrolled in a WMA WFR class taught by Sawyer Alberi, and was hooked. In 2016 CK took her IT and has been instructing WMA courses ever since. In 2018, she instructed a WFR course with Sawyer, bringing her journey with WMA full-circle. 
Just over two years ago, CK moved back to her native North Carolina and now lives in Asheville with her family. She works for the VA Hospital as an ER doctor, triaging and treating patients on the front lines of the global COVID-19 pandemic. In her role, CK frequently triages patients in a trailer outside of the ER to separate patients to keep the risk of exposure to COVID-19 as low as possible. She likens the work to practicing field medicine on a daily basis. As a medical doctor and WMA instructor, CK has the unique experience of being immersed in two worlds: wilderness medicine and hospital medicine. She finds that there are a lot of parallels including the need to always stick to the basics. 
When she's not working at the ER, CK teaches family medicine residents once a month, plays guitar and banjo, makes ornate cross stitches, and spends time with her wife Liz and kids Rowan (5) and Micah Joy (7 months), as well as their four-legged friends – Olivander and Padfoot (the dogs) and Mr. Tux (the cat). If you're lucky enough to be a student on one of CK's courses, you may get treated to a banjo concert around the campfire at night.  
A triathlete, CK enjoys trail running and open water swimming. Before her move back to her home state, she participated in multiple long-distance open-water swims to raise money for kids' programs at the YMCA of Southern Maine – including the Peaks to Portland Swim in the chilled ocean waters along the Maine Coast.   
CK credits her passion for instructing to her WMA mentors including Sawyer, Robin, and Judi. She is honored to be a part of WMA and can't wait to start teaching courses for WMA again once the COVID-19 pandemic has subsided. 
WMAI: "What are the defining moments of your career thus far?" 
CK: "Once per class, there is an eye-opening moment for a student. At that moment I feel fortunate that I get to be there – I'm always excited to be there. Wilderness medicine is a really fun thing to teach, and to help my colleagues facilitate learning. I'm always sad when the courses end. The longer the course, the better!" 
WMAI: "What do you believe are the key attributes of a successful wilderness medicine professional?" 
CK: "1. You must love being outdoors. 2. Always remember to go back to the basics – think of the triangles. Be able to MacGyver a little bit – figure out how to make do with what you have. 3. Have fun!" 
WMAI: "What is the one thing every person teaching wilderness medicine must know?" 
CK: "That everybody has the potential to save a life and that you need to convey that they can do it no matter what their background is. Everyone can get the training, learn the basics and practice the key skills. I encourage people to dive into wilderness medicine and have fun. The skills are valuable and they will love it, too!"