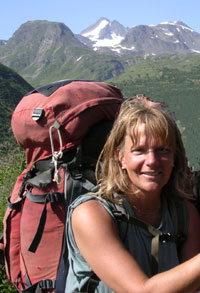 Deb's path into the field of wilderness medicine started at the University of Wisconsin – Madison where she earned her bachelor's degree in Psychology and master's degrees in Clinical Psychology and Education.  Between her undergraduate and graduate work, Deb visited Alaska to complete a required internship.  With her masters' degrees in hand, she returned to Alaska to serve as a clinician in wilderness therapy.  
During those years, Deb began to enjoy the informal teaching she offered friends during weekend adventures in the backcountry. The experience inspired her to exchange her clinical position for a collection of part time pursuits that included guiding, mountaineering, teaching, and working in Alaska Regional Hospital's emergency room, as well as in the hospital's Life Flight program.  
Deb also ran the University of Alaska's outdoor program for several years. After she was there only a few weeks, there were two student fatalities which really changed the trajectory of her profession. Her career focus shifted to risk management and safety, eventually leading Deb to launch SafetyEd, a company that provides training and consulting for individuals, groups, and organizations that work or play in remote locations. As part of this business, she teaches a variety of WMA International courses. Deb is also a member of the faculty at Alaska Pacific University where she teaches WFR courses, Organizational Risk Management, and Introduction to Outdoor Studies. 
Deb has now been teaching for WMA International for more than 25 years. Many of Deb's students today are individuals working in Alaska for the U.S. Park Service, BLM, U.S. Fish and Game, etc. Many of them, she notes, are pretty outdoor-savvy: "They have been in plane crashes and snow machine accidents, so they take my classes because they understand the value of this education." 
To share her wisdom and experience with the larger audience, Deb has written extensively about risk management, emergency action planning, and wilderness medicine. Her latest book, Lessons Learned II, can be ordered from our Bookstore. She also receives invitations to speak and present on the topics of safety and risk management. 
When asked what she does when she isn't working, Deb responded "do you see where I live?!" She spends a lot of time outside, against the beautiful backdrop her state provides, day-hiking, skiing, and fat tire biking.   
WMA: As an instructor in Alaska, what do you value about the material WMA International covers and how it is taught? 
Deb: WMA really shines with its focus on conceptual learning. If you can understand how the body works, its compensation mechanisms and that it loves homeostasis, then you can problem solve much more effectively. You are not as effective if you do not really understand – for example, if you focus just on building a splint – you could put it on a leg that doesn't need to be splinted or you could create a frostbite problem. This is crucial especially up here where 911 may not come today, and it certainly won't come within the first hour. In places like Alaska, you have to understand that and build it into your plan. 
WMA: What do you want your students to take away from your courses? 
Deb: I want to make sure my students understand exactly what they are getting into. Statistically, 85% of people who experience an unexpected event – their plane is crashing, the bear is running at them, they just capsized – will under-perform. So, I want my students to learn and understand ways to deviate from that statistic. Importantly, the brain must be exposed to uncomfortable surprises. That's what our WMA scenarios are. I make the scenarios super real and super uncomfortable, because people will almost always miss the target the first time they are exposed to an unexpected event. I don't want the first time to be in the field.