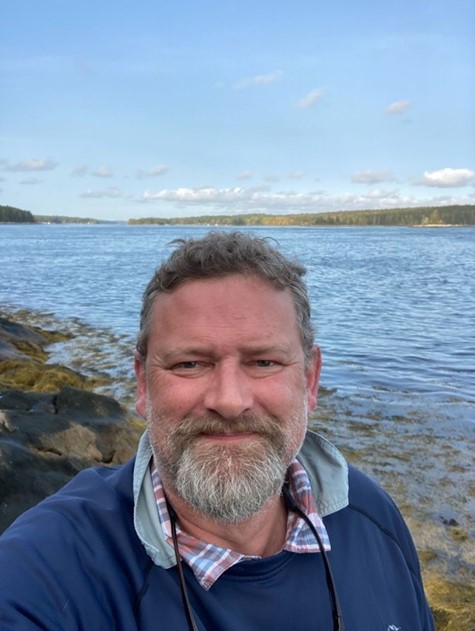 When Eric Duffy took a WFR in 1996, he had very different plans for his career. He was a graduate student in Nova Scotia at the time, studying theology and world religions and looking forward to the world of academia after that. But Eric soon grew distracted by his natural surroundings. He started hanging out with people who taught him to whitewater canoe, free-heel ski, camp in the winter, and sea kayak on the Bay of Fundy with its 13-meter vertical tide. Eric quickly learned that his basic first aid and lifeguarding training wasn't enough to feel safe and that a more "hands on" approach to life worked better for him too.   
When he stumbled on a flier at his university advertising a WFR in The Forks, Maine, he jumped on it. Little did he know that his instructors would be the legendary Dennis and Nancy Kerrigan, and Jim Morrisey – or that WMAI would become an integral part of his life. He jokes, "That's when I really found religion!" A few months later, he returned to Maine to work as the Outdoor Education Director at Hebron Academy. Over the next few years he finished his master's thesis, took a WEMT course, and became a Registered Maine Guide in Recreation and Sea Kayaking. He went to WMAI instructor training in 2000, became a Lead Instructor in 2002, and has been active in this role ever since.   
After moving to a small lobstering village in MidCoast Maine, he worked seasonally for several years – as an EMT during the winters, a sea kayaking guide during the summers, and an instructor for WMAI in the off seasons. Eric then joined L.L.Bean's Outdoor Discovery Schools, where he managed its paddling programs for a few years. Later, he moved farther up the coast to Chewonki to serve as Health Center Coordinator from 2007-2010. That's when he had the chance to enroll in nursing school through a new program at a local community college. After working his way through the ICU and ED for a few years, Eric took a position as the Director of Health Services at Lincoln Academy in 2016, coordinating a school-based walk-in clinic for teens. He recently stepped aside into a part-time position there, so he could teach more for WMAI, and refresh his clinical training by working in an Urgent Care center.    
In a lot of ways, the transition from theologian to EMT to RN has been quite natural. In other ways it has all been tied together through Eric's work with WMAI. He feels lucky to have built a career around education, wilderness trip leading, and frontline medical care. He has been practicing medicine in pre-hospital, walk-in, and ED settings in a small, rural community for more than 20 years – sometimes treating several generations of the same family. Yet, through his work with WMAI he has also certified entire families over several years. This places his own medical care within a human context, and that comes through in his teaching. "We all look different on the outside, but we all look the same on the inside," he says.  
Eric, his wife, and two daughters spend a lot of their time together outside. Their adventures include ocean paddling in both canoes and kayaks, free-heel skiing, whitewater canoeing, and sailing some vintage dinghies he restored during COVID lockdown. His daughters, now 12 and 14, were present at their first WFR courses when only 6 and 9 months old, and audited their first WFA last summer. "But," he says, "my greatest achievement in life is that they both could poop in a plastic bag on an island by the age of 4, and it was no big deal."
Highlights from the courses Eric has taught for WMAI include driving a snowcat across a frozen lake in the Adirondacks to teach a course in February, and another at a former U.S. Navy base in Downeast Maine where drills took place on sea cliffs as the class was repeatedly getting sprayed by waves. His students have ranged from parents who want to be prepared for family outings, to seasoned outdoor leaders, search dog handlers, forest rangers, ferry boat captains, secret service agents, nurses, doctors, flight medics, and even a 90-year-old student who took a WAFA with her granddaughter. He also piloted the first WFA classes where everyone was 16 to 18 years old.
Eric states that "compassion is a verb." His work as an instructor seems like another expression of this belief. He is motivated and energized by it. One thing that Eric tells new instructors is to "never lose sight of what it's like to learn this material and these skills for the first time. Emergency care is a very human experience, and can be full of triggers, anxieties – so I work really hard to demystify it, and to find ways to help students keep the key points simple and accessible under stress," says Eric.
WMAI: What do you think is a key attribute of being a wilderness medicine professional? 
Eric: Critical thinking. If we do this…then what will happen?…think two steps ahead, but get there in half-steps…look for the cause and effect…what can we rule out? That skill is incredibly valuable in emergency situations.
WMAI: Do you have any defining moments that stick out from your time working with WMAI?
Eric: Two years ago I was at a family dinner in a local restaurant. At that point, I had done CPR a couple dozen times in professional settings and had rarely seen it work. But this evening I was just sitting down to a pint and some oysters when someone nearby collapsed. For the first time since I took my own WFR, I found myself doing BLS as a bystander – no supports, no fancy tools or critical care teams – just me and him. I could hear my own 'instructor voice' coming through the buzz of the first few moments: Slow down. Take a deep breath of your own. Assess. Do they have an airway? Open it. Are they breathing? Breath for them. Do they have a pulse? Start compressions. Monitor frequently. Start the stopwatch. As this person's pulse came and went over the next 10 minutes, I switched back and forth between CPR and rescue breathing three times before EMS arrived. Their monitor showed V-fib, and we gave one shock. He went back into a sinus rhythm! After a few more squeezes from the bag, the patient coughed, took a huge breath, opened his eyes, looked right into mine, and said "HI!" It is one of the most monumental experiences of my entire life. He called me soon afterwards and we talked about the experience. When I called him on the first anniversary, he told me I was the only person who remembered the day. With tears in my eyes, I blurted out a laugh – and told him I would never forget it! I have WMAI to thank for this, and I am honored to be part of a company that allows me to pass on that kind of knowledge to students, and sometimes, to pay it forward to my fellow human beings in the most tangible of ways.