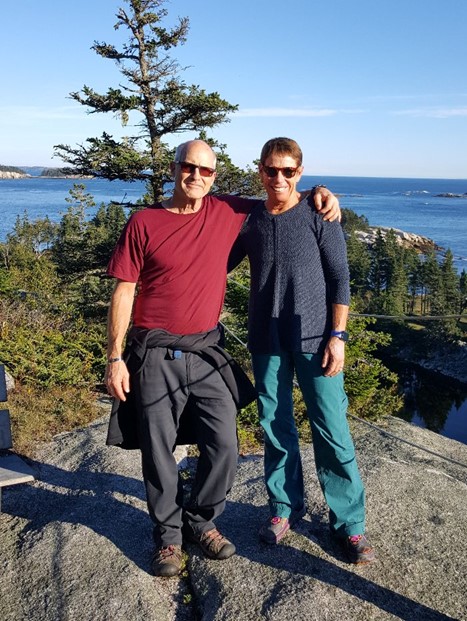 Jeff Isaac (pictured left) and fellow WMA instructor Fay Johnson (right) on Hurricane Island, Maine.
Jeff Isaac has been involved with WMA since its start in the 1980s working closely with company founder, Peter Goth M.D., after meeting him through Hurricane Island Outward Bound School.  Jeff continues to serve as the Curriculum Director for WMA and is the author of The Outward Bound Wilderness First Aid Handbook and co-author of Wilderness and Rescue Medicine, used as WMAI textbooks worldwide. In addition to his vital role with WMA, Jeff is the director of GVH Mountain Clinic in Crested Butte, Colorado and serves as a team leader and medical officer with Crested Butte Mountain Rescue where he is able to practice his skills as a physician associate and WEMT.
Jeff's medical career began as a ski patroller while an undergrad student at St. Lawrence University in upstate New York. After serving at small, local ski hills on the college ski patrol team, he became an EMT and joined the Sugarloaf ski patrol in western Maine. Enjoying the profession but seeking more, Jeff decided to go back to school to become a physician associate at Albany Medical College in New York, earning his degree and returning to Sugarloaf to start an on-mountain medical clinic that he ran for 14 years prior to moving to Crested Butte.
Jeff contributes much of his introduction to wilderness medicine to Peter Goth, who collaborated with Jeff to expand commonplace views on emergency response and medical protocols in remote and under-resourced environments. The two met in 1980 while Peter was working as an emergency room doctor in Maine and Jeff was working as a course director for Outward Bound on Burnt Island where he served as the island's de facto chief medical officer.. Their paths first crossed when Peter visited Burnt Island as he was becoming interested in advancing Outward Bound's medical procedures and serving in an advisory role for the program.  The two hit it off, discussing methods for providing appropriate medical training for Outward Bound instructors that surpassed the skills offered in basic Red Cross First Aid courses and bouncing the foundational concepts of wilderness medicine off one another. In reflecting on the early years of wilderness medicine, Jeff shares: 
Back in the early 80s, this whole concept of wilderness medicine was still brand new, now it's almost mainstream, but back then it was all new stuff.  I mean it was the Wild West of trying to figure out how to do it, how to teach it, and what and how to apply it to give it some credibility.  It was a really exciting project along with being a very interesting and enabling way to look at medicine. I think that combination led me into wilderness medicine and I have been an advocate ever since. I'm still a team leader for search and rescue out here and  I've had quite a few opportunities to actually use the principles in the field.  Every time I do it, it reinforces the skills. 
Just being able to look at things the way we look at them, apply medicine, and see it work time and time and time again is remarkable, especially when you can solve a fairly complex problem out in the middle of nowhere. 
Building off his foundational experiences and long career as an instructor for Hurricane Island Outward Bound, Jeff started to expand his skills into more specialized skill sets within wilderness medicine, including the creation of the WMA Offshore Emergency Medicine (OEM) course in the early 2000s. As an experienced mariner and licensed captain himself, Jeff designed the OEM course for sailors and other marine professionals, utilizing skills and concepts from both the Wilderness First Responder and Wilderness Advanced Life Support (WALS) courses.
With decades of experience and a diversity of skill sets and knowledge, Jeff has an abundance of wisdom to hand down to the future generation of wilderness medicine professionals. Jeff shares, "If you understand what's going on, you will never forget what to do." In teaching wilderness medicine, Jeff focuses on the fundamentals of assessment and understanding, encouraging students to focus on the big picture of emergency situations and to use their learned skills from there.
In considering what makes a strong WMA instructor, Jeff highlights 1) patient care time, 2) comfort in remote environments that instructors train for, and 3) the ability to appropriately convey and explain information and skills to students. In reflecting on these three pillars of a strong wilderness medicine instructor, Jeff considers, "Some people are going to be a lot stronger teachers and maybe less experienced as patient care providers, some people are going to be very strong outdoorsmen or guides, but maybe not so experienced as teachers and patient care providers, etc., but I think those three elements are really key. For someone who is learning to become an effective instructor, gaining experience in the other two areas is incredibly important: outdoor activities that really challenge them and time providing patient care. To me, these are the essential elements in becoming a well-rounded and first-rate instructor."
When Jeff is not managing his medical clinic, working on his publications, or leading courses and search and rescue, you can find him on his sailboat in Florida, riding horses with his wife on the trails of Colorado, or hiking, biking, and skiing in the Rocky Mountains.  
WMA: With your long and robust career in wilderness medicine, we are curious if there are any particular defining moments for you? Moments that let you know that wilderness medicine was really the thing that you wanted to be doing?
Jeff: Well you know, I spent a long time as an Outward Bound instructor and that's kind of an environment that forces you to do risky things in dangerous places and that was certainly a motivator. Meeting Peter Goth was another huge motivator. I met Peter shortly after I finished my P.A. training and the way he talked about medicine and the way he could explain things clarified so much of the training that I had received both as a P.A. and as an EMT. It just made so much more sense the way he described it. For a lot of people, especially trained medical personnel, a WFR course can often be eye-opening, i.e., they understand what they were taught for the first time.
I think we at WMA have done a pretty good job of teaching understanding, i.e., helping people comprehend what's happening, allowing them to apply the principles and skills that they learn to pretty much any situation. That's what I think WMA does particularly well along with other companies involved in teaching wilderness medicine. It's a little bit of a convergent evolution as they've also realized this and are teaching more of a principles-oriented rather than mechanical approach to medicine.  And, the principles-oriented approach works just as well with trained medical personnel as it does with non-professionals. In the clinic that I run, I train medical residents, PA students, and nursing students.  I use the exact same approach with a third-year medical resident as I do with a WFR student, and my trainees experience the same sort of light bulb moments of understanding that the WFR does. It's amazing to watch!  
WMA: When you teach courses, what are the key attributes you want the students to take away or display as wilderness medical professionals? 
Jeff: Well, that's kind of encapsulated in the first few PowerPoint presentations that we do in a course.. There are very few rules and there are a handful of skills. What I really like people to take away from a course, if they take away nothing else, is the ability to tell the difference between something that's serious and something that's not serious: that's number one.  The beauty of that, of course, is things are not serious 99% of the time. If you can recognize that, you can go a long way toward calming a situation down and then approaching it a lot more rationally than you might if you didn't have that skill. The other is, we want people to be able to make good risk/benefit decisions, understanding that there's a risk associated with everything you do, and hopefully there's a benefit, and to be able to weigh those things in a difficult, confusing, and challenging environment. I think those are the two big ones: the ability to distinguish something that's not serious from the very few things that are serious, and being able to make a decent risk benefit decision about treatment and evacuation.  That's kind of key, and if you look at rescue work around the world, most of it is far more dangerous than it needs to be for the presumed benefit to the people being rescued.  We need the decisions being made about evacuating somebody to be appropriate to the severity of the situation. If my students can walk away having some sense of how to do these two things well, everything else is gravy.