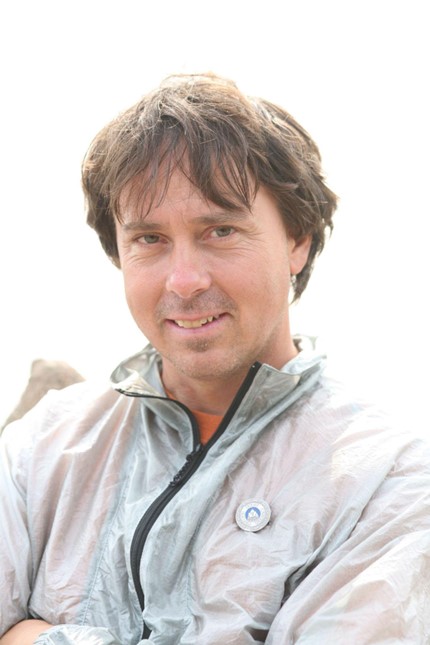 Jon Tierney is an IFMGA/AMGA Mountain Guide, RN, Flight Paramedic, and business owner based in Orono, Maine. Jon has dedicated his life to outdoor education, mountain guiding, and medicine.  He received his paramedic certification in 1988 and started his own guiding company, Acadia Mountain Guides in 1993.
Jon's interest in wilderness medicine began early on in his career. In the early 80s, after two years of EMT work with free time filled with outdoor pursuits, Jon combined forces with Kevin Slater, long-time Outward Bound and NOLS Instructor, to teach a course at the University of Maine in Orono. Jon and Kevin titled the course Wilderness Emergency Medical Care which focused on foundational skill sets similar to what is seen in today's WFR courses. After taking a course with Peter Goth in Bethel, Maine,  in the mid-80s, Jon pursued a path that led to him becoming a WMA instructor. 
Whether he is working a nursing shift in the emergency room at Waldo General Hospital in Belfast, Maine, serving as a paramedic in the rural town of Greenville, or providing critical care to patients in remote locations with LifeFlight, Jon believes that in all three of his medical endeavors his foundation in wilderness medicine is what he draws on most consistently. In reflecting on the values of wilderness medicine and the transferable skills it provides, Jon says "the most important thing is to be able to make a decision. It's easy in medicine to get hung up on the things that an apparent injury might be, when 90% of the time, the injury is what it is. So, I simply rely on my base of knowledge in wilderness medicine.  It simplifies everything." It is precisely this approach that he hopes to pass down to his wilderness medicine students, i.e., "the ability to make a decision based on their grounding in wilderness medicine." 
Jon values the fact that WMA has been a visionary leader in the field of wilderness medicine for a long time and he "would like to see us maintain that position."  John goes on, 
I recall a rescue very early on in 1991 when I was working as a climbing ranger in Rocky Mountain as a paramedic and backcountry ranger. One rescue that really sticks out is an incident on the Petit Grepon which is a very classic spire in the National Park with a very popular climbing route. A gentleman had taken a fall pretty high up on the route and by doing a spinal assessment, we were able to clear his spine and rappel down with him 900 feet instead of having to do the classic bring the litter up to him, put him into it, and lower him down. That was a defining moment very early on where you could see the clear benefit of wilderness medicine. Spinal management is a really good example of what I am talking about. Back in the day, you were looked at as a weirdo if you thought about doing a spinal assessment on someone, and now, fast forward several decades, it's commonplace.  EMTs and paramedics are routinely doing spinal assessments.  Take it to the next step and it's the same with spinal management.  In wilderness medicine, we started to talk about moving people out without being immobilized long before mainstream medicine started to think about it.  It's just now beginning to infiltrate mainstream care. 
Asked about the future, Jon responds, "I have dreams of incorporating techniques that we use in critical care into wilderness medicine so we can save more lives. I am always looking ahead and wondering, what is the next big step?" 
When Jon isn't busy guiding and instructing, managing his business, or juggling his many roles in the healthcare field, you can find him making the most of ski turns in the backcountry or soaking in a few pitches of rock climbing with friends new and old.
Finally, Jon's company, Acadia Mountain Guides, is a year-round climbing school that offers rock and ice climbing excursions across New England, backcountry ski expeditions, avalanche education, wilderness medicine courses.  Jon also owns and runs Alpenglow Adventure Sports, a retail store with locations in Bar Harbor and Orono.