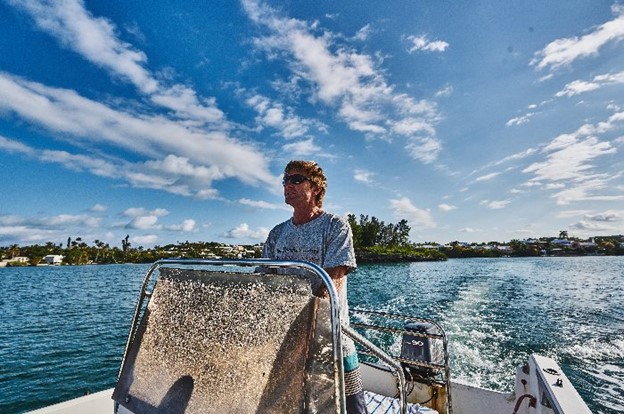 John Paul "JP" Skinner is a teacher, EMT, and WMA Assistant Instructor based in Bermuda. His island roots run deep. Born and raised by parents who were both English teachers, JP lived on the island until he began his undergraduate studies at the University of California – San Diego. During his collegiate years JP studied anthropology and also received post-graduate teacher training. JP returned to Bermuda where he is the founder and director of Waterstart, a non-profit organization that teaches boating and scuba diving to Bermuda's middle and high school students. The program offers these young men and women a unique opportunity to learn about Bermuda's shoreline ecology and restoration efforts.   
JP began his journey to becoming a WMA instructor by taking the Offshore Emergency Medicine (OEM) course with Jeff Isaac in 2008. He had been using his knowledge as a basic first aid and CPR instructor to support Waterstart's programming and was looking to expand his skillset to better equip himself for the remote and low-resource environments that come with teaching scuba diving to teenagers. After that first course, JP recalls, "I remember thinking 'I want more,' and I called up Jeff and asked 'what's next' and he said 'go do a WFR,' so I went and did that!"   
Through the OEM, his WFR course and several subsequent recertifications, JP became enthralled with WMA's pedagogy. He thought, "the pedagogy and the teaching style are so great. As a teacher myself, I want to be able to teach like this to my students – this is such a great way to learn."   
JP completed his WMA Instructor's certification on Hurricane Island in Maine in 2018 and has been teaching as an Assistant Instructor ever since. In the future, JP hopes to bring an even greater WMA presence to Bermuda, teaching wilderness medicine not only to those in the island's boating and diving communities, but also to the island's educators as a component of their professional development. 
JP lives in Bermuda with his wife, Amanda, and their two children, Zoe and Chris. When he isn't teaching others how to dive, boat, or practice wilderness medicine, his passion is surfing. As he puts it, "as long as I can get in the water every day, I'm happy!" 
WMA: Thinking about your work with WMA and wilderness medicine education, do you have any particular defining moments in the process of becoming an instructor? 
JP: What has propelled me forward in my learning are the WMA instructors who are not afraid to request more of me, so that I really learn the skills. As a WMA student, I remember feeling a healthy intensity that kept me focused and eager to perform well. Now in the role of instructor, I try to create a similar atmosphere, challenging students to dig deeper, i.e., "'Hey, this is a lot to grasp. This course is not just a walk in the park." The medicine part of the WMA curriculum has been just fascinating for me too, of course, but the teacher gene in me is just amazed by how well the curriculum DJ, Jeff, and others have created works to keep students really engaged. 
WMA: What do you think are the key attributes of a successful wilderness medicine practitioner? 
JP: Muscle memory, specifically the stress-dampening memory is key, i.e., the ability to slow down the adrenaline dump so you can think clearly and problem solve. In a nutshell, it's all about making difficult decisions with insufficient resources and not getting overwhelmed with the emotional load of realizing the size of the task at hand. I read a great book recently called Deep Survival by Laurence Gonzales. It's basically an analysis of backcountry emergencies, i.e., why some survive and some don't. Gonzales describes those moments when your adrenaline and your emotions combine to create a super powerful, internal racehorse and the jockey riding that horse is your rational thinking. Without the racehorse, you're not going to get to the finish line, but without the jockey steering, it's going to be a yard sale.  
WMA: If you had to sum up why you teach wilderness medicine in a nutshell, what would you say? 
JP: I can't personally imagine any life skill more important than "know your body, know other people's bodies, and know how to keep these bodies functioning." I truly believe that every high school graduate should know these skills. The WMA curriculum and the pedagogy would be perfect for incorporating into a life skills course. Armed with those skills, people might be more willing to escape the urban realm, embrace the outdoors, and become more involved in the quest for sustainability.