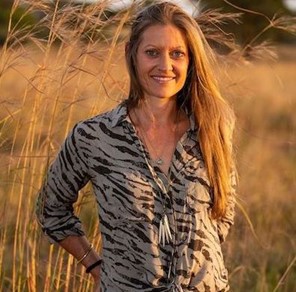 Melanie's people-oriented personality and keenness to learn has enabled her to carve out a career path that she describes as "a series of steppingstones, but not necessarily intentional ones," taking her from her hometown near Philadelphia all the way to East Africa where she has been living since 2010. It was in Africa that Melanie discovered WMA International in 2018. Working with the Arusha Medivac company, she realized that many of the patients she picked up from the bush could have been greatly helped if the non-medical people on site had a basic understanding of first aid. Melanie had also been asked to provide training for rangers, with varying levels of education and language, doing anti-poaching work on motorbikes and on foot in the Serengeti. So, Melanie proceeded to take her first wilderness medical training in Tanzania, followed by an Assistant Instructor training on Hurricane Island in Maine, and has recently been signed off as a Lead Instructor while training in Tanzania.
Initially trained as a nurse in the United States, Melanie started her nursing career in the Cardiac Intensive Care Unit of the Children's Hospital of Philadelphia in 2008. In 2010, she moved over 7,000 miles away to Kampala and the Ssese Islands of Lake Victoria, Uganda to work with a non-profit organization as an RN in the area of maternal, child, and infectious diseases community healthcare development. While in Uganda, Melanie earned her Tropical Nursing Degree. Eventually, Melanie began to miss emergent/critical care medicine. So, in 2017, she found herself in Arusha, Tanzania where she flew with Arusha Medivac as a flight nurse and the Medical Team Lead and played a key role in establishing the company's standard medical operating procedures, assembling its medical team, and procuring equipment. Melanie also began providing wilderness first aid and trauma training for the Frankfurt Zoological Society and various safari and charter flight providers, tailoring her classes to park rangers, anti-poaching teams, pilots, and airport personnel. She has also been involved in designing custom trauma first aid kits for these groups.
Since 2017, Melanie has also worked as a private RN for a few safari groups operating all over the continent of Africa. These experiences require her to collaborate with security teams, safari guides, and camp staff to ensure the guests' health and safety throughout their travels. It has also forced her to constantly adapt to new and unique challenges like addressing issues with how an elephant will respond to the sound of a baby crying and how to promote wellness and provide emergency care using the resources available in bush settings.
During her most recent employment as an Advanced Life Support Medic for Kampala Executive Aviation, Melanie assisted in developing and operating a remote clinic and worked as an on-call flight medic for emergency trauma response in Nigeria. For a brief time in the spring of 2020, Melanie returned to the United States and worked in a whole different "wilderness," i.e., serving as an RN in COVID-19 response at a temporary field hospital in Atlantic City, NJ for two months. She then shifted to Aria-Jefferson Health – Frankford Emergency Department, a fast-paced, 35-bed emergency department in an urban community hospital in Philadelphia, PA. Today, Melanie is an RN working freelance in East Africa. Her goal is to use her skills in healthcare to support conservation by highlighting the connection between our health and the health of the planet while providing care and training people in emergency response.
When not working, Melanie uses her free time to be active and spend time in nature. She can usually be found riding motorbikes, doing yoga, or exploring wildlife and places. She also loves connecting with people and connecting with the environment around her.
WMA: What is one thing that you hope your students take away from your courses?
Melanie: Learning how to use what's around them, including the people nearby or physical items which can be incredibly useful. One thing that wilderness first aid really drives home to people is that we have so much around us that is not necessarily a defined medical tool or device, and yet it can provide the caregiver with a perfect tool for attending to the patient's needs.
WMA: What is something that you've learned in teaching wilderness first aid in different contexts and to different groups?
Melanie: I worked in a challenging ER in North Philly – a fairly impoverished neighborhood, with plenty of drugs, suicide, homicide, poverty, and recent immigrants. Half of the time our patients didn't speak English and oftentimes we didn't have the resources we needed to provide appropriate care. It occurred to me that wilderness can be anywhere. Wilderness can be Frankford, North Philly just as it can be the middle of the Serengeti. In any of these places we can and must reconnect with our natural world and resources to promote wellness and the health of all.