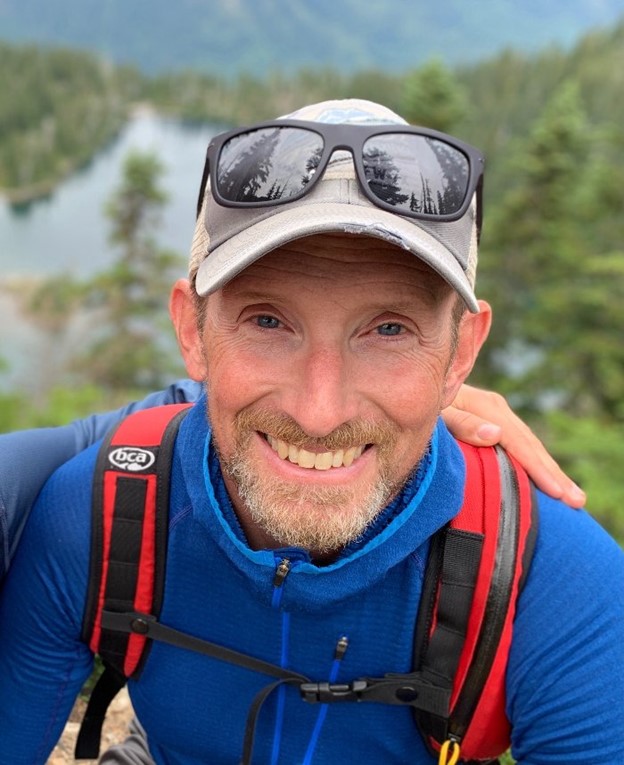 Nick Runions is a paramedic and WMA Lead Instructor who lives with his partner, Diana, and children, Chase and Paige, in beautiful Leavenworth, Washington. A graduate of the University of Washington, with a degree in speech communication, Nick works full-time as a paramedic for a hospital-based ambulance service on Whidbey Island in Puget Sound. Whenever he gets the chance, Nick takes full advantage of the natural areas around Leavenworth and the easy access it offers to rivers, trails, and mountains. 
Nick's path to becoming a wilderness medicine instructor involved equal parts serendipity and personal mentorship. After finishing his degree at the University of Washington, Nick was looking for a new direction in life and took a job with a sea kayak outfitter in Seattle. This job piqued his curiosity about how groups like the ones he was outfitting would handle emergency situations while on the water, and a co-worker told him there was a specialized organization called Wilderness Medical Associates that offered trainings. Shortly thereafter, Nick was enrolled in a WFR course at Lewis & Clark College in Portland, Oregon taught by Jim Morrissey and Rick Lipke. In addition to learning wilderness medicine fundamentals in the course, Nick connected with people involved in local ski patrol organizations. At the end of the course Nick had a conversation with a local ski patrol director hoping to get information about how he might join ski patrol the following winter. To his surprise, he found himself agreeing to start the following week instead!   
After three years working as a member of the ski patrol in winters and sea kayak trips in the summer, Nick recertified his WFR credential in a course taught by Tom Clausing and Lucca Criminale of Rescue Specialists. This was the moment he knew he wanted to work as a WMA Instructor. As Nick recalls, "During that course I was reminded of how much I valued the WMA curriculum, the class structure, the drills, and the simulations. In addition, Tom and Luca are among the best instructors I've encountered in my life, so it dawned on me that this is something I want to do more of." On Tom's advice, Nick enrolled in the next available EMT+W (now EMT + Wilderness EMS) course, and began apprenticing on Rescue Specialists courses shortly thereafter. 
Nick apprenticed exclusively for Rescue Specialists for a year until he was able to take a WMA Instructor Training course. Once he was able to do so, he went on the road for WMA and taught full time in the spring and fall for several years, including several courses where he needed to teach through a translator. Says Nick, "I really loved the challenge of teaching through a translator in another culture and problem solving how to deliver an excellent course." In 2008, he also began teaching aspiring instructors in WMA's Instructor Training course as a way to pass on his knowledge and experience, as well as the invaluable perspective he developed along the way.  
After several years teaching both on the road and in Washington with Rescue Specialists, Nick went to paramedic school and has worked full time in that profession ever since. He continues to teach part time for WMA, and enjoys life in Washington with his family at every opportunity. 
WMA: When you're thinking about training other wilderness medicine professionals, what are the key takeaways that you really want to make sure those wilderness medicine professionals get. 
Nick: I put a massive emphasis on our patient assessment system. If you can figure out what's wrong, it's usually not too much rocket science to figure out how to take care of it–the trick is figuring out what's wrong. With wilderness medicine, we're creating clarity out of chaos. When you first show up, it's chaotic, it's noisy, it's scary, we don't know what we're dealing with, what's wrong with the patient, but there's a real clear road map forward, and that (the patient assessment system) is how we get clarity. We may or may not be able to come up with a specific diagnosis, but we can definitely come up with a clear diagnosis, a functional diagnosis. So we might not be able to say that somebody's got a pneumonia, or pleuritis, or some other respiratory distress mechanism in specific, but we can say, "they're in moderate respiratory distress at altitude, and I have a clear path forward. I know I need to descend; I need to consider infection; and I need to support the patient with oxygen and reassurance." It's about clarity vs. precision, which is a mantra I try to share with students. We're going for clarity, we may get precision; if there's a bone sticking out, that's a fracture! But we may have to deal with imprecision, and that's OK in a wilderness context. 
WMA: How about when you're teaching other instructors? What's the thing you want to make sure that they never lose track of? 
Nick: There's got to be a purpose behind everything that we're doing, especially when it comes to something like designing a drill, or a bigger, more involved simulation. I'm an advocate for creating pretty complex simulations with legit moulage and rescue components, videotaping the action, and using the footage when debriefing. You start your design process with 'what is the end goal' and then you dial back to 'OK, how do we reinforce that?' What will success look like for our students? How will we know when they've achieved a goal that we're putting out before them.   
WMA: You've been doing this for quite a while now, in a variety of capacities; if you had to sum up why you've made this a consistent part of your life, what would you say? 
Nick: When I'm teaching WMA students, the moments that stick out are those thresholds of self-discovery and self-empowerment that students experience. I really like seeing my students achieve not only competence in medicine (after all, that's what the cert card says, and that's what their employers are going to require), but also the confidence that they can take into other areas of their lives. I also find that students gain a broader perspective on life, what matters, and their place in this world. Those are the cool moments of discovery that are really what we do.