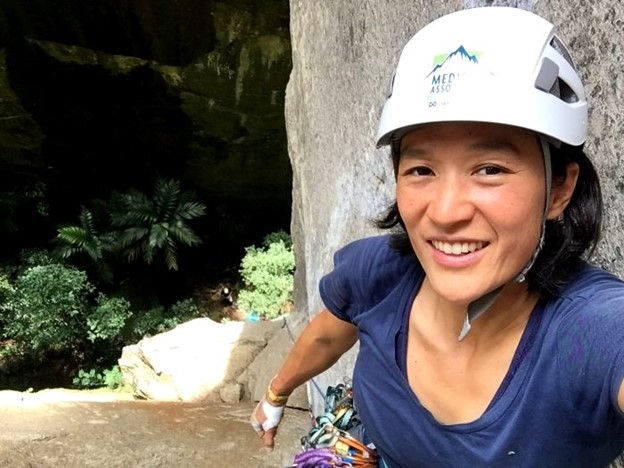 Samanta Chu is a long-time WMAI instructor based in Brazil. Born and raised in São Paulo, Sam completed industrial design school in Brazil and traveled to British Columbia, Canada in 2005 to join an adventure program. In her first year in Canada, Sam completed her WFR course through WMAI. She continued to work in BC for a number of years guiding and exploring around the Pacific Coast and the Canadian Rockies.
Sam returned to Brazil in 2009, after becoming the Technical Director for the São Paulo State Mountaineering Federation in 2008. She worked to bring accident prevention training to the federation. Sam joined a group of people who were part of the Brazilian Confederation of Mountaineering and Climbing (who represent all of the associations and federations in the country) to discuss a standard curriculum for volunteer mountaineering guides (people who work for outdoor clubs teaching mountaineering/climbing courses). Sam advocated for a higher level of first aid training – similar to the Canadian standard – and was told that it wasn't available in Brazil at the time. Thus began Sam's efforts of bringing wilderness first aid to Brazil.
Sam launched WMAI-Brazil in 2011, traveling frequently to the U.S. to gain the experience needed to be a lead instructor. In the fall of 2011, Sam took a WEMT training as well as her Instructor Training course and became a lead following a 45-day teaching stint in the US. Since 2012, Sam has been teaching a variety of WMAI courses to people across Brazil, including outdoor professionals, researchers, and physicians. For years, Sam trained doctors from the Brazilian Navy who spent 13 months working at the Brazilian Antarctic Station. In 2018, Sam was invited by a non-profit that supports and empowers native Indian communities to train a Yanomami tribe in wilderness first aid. The highest mountain in Brazil, Pico da Neblina (Fog Mountain) is located in their territory, and after 10 years of being closed to tourism, it was reopened in 2019. Sam's role was to train the Indian guides so they can lead tourists up the mountain. She has also been involved with the specialty Battlefield Medical Rescue Course, which teaches first aid to journalists in the locations they are covering. These courses are taught all over the world through an initiative run by the non-profit, RISC. Sam also teaches in other countries, mostly where Spanish is required, including Colombia, Peru, and Panama.
In addition to teaching for WMAI, Sam works as a guide for both international and local schools. She has taken students to every corner of Brazil, including the Amazon and UNESCO World Heritage Sites. In addition to teaching environmental studies and incorporating the ideals of good stewardship, the expeditions Sam leads always involve interacting with the local community members. Finally, Sam is an avid rock climber, mountaineer, sea kayaker, and most recently, a paraglider.
Sam is now on the frontlines of wilderness safety and accident prevention education in Brazil. One of her primary goals for WMAI-Brazil is to provide training to bridge the gap between physician and state-given care. In Brazil things are different: search and rescue operations and wilderness medicine are still in their infancy. Her training serves as a means for prevention, intervention, and preparedness. Much of her daily teaching is dedicated to convincing outdoor enthusiasts and local citizens alike that first aid is important. Due to the lack of standard first aid education in Brazil, many of her students have never taken a first aid or CPR course, let alone a wilderness-based first aid course. Sam teaches from the perspective that first aid knowledge can prevent accidents. The more knowledge you have about situations, the less likely those accidents are to happen.
WMAI: "Sam, tell us about a defining moment of your career."
"On the first day of one of my courses during a 45-day stint teaching in 2012, the lead instructor turned to me and said 'Run a drill – this is your show' then turned her back. I was launched into my lesson – a sink or swim moment and for me a monumental one. I was forced to think on my feet and was nervous. The situation taught me how to be a better mentor and instructor, and that lesson has stuck with me ever since. I believe in experiential learning and that development as an instructor never ends."
WMAI: "What do you believe are the key attributes to a successful wilderness medicine professional?"
"The ability to make good decisions trump medical experience. The more knowledge and skills you have are really what it takes to prevent accidents. Prevent what you're training for."
WMAI: "What is the one thing every person teaching wilderness medicine must know?"
"I joke around that my story with WMA is a bit romantic, and it's definitely a labor of love for me as I don't teach for the job, but I do it because I believe in what I do and the importance of this training for people who play outside. And that's what I look for in someone who would like to work with me (it's more than just another job), just because there are many challenges here in Brazil – cultural, political, economic – that makes things a notch harder than in other countries.
But for anyone who would like to teach wilderness medicine, I would say that as society changes over the years it becomes harder to be (or remain) an effective instructor. The medicine may stay the same, but people won't. Those who are willing to be challenged and be dynamic will be more successful in the role of an educator."
PS. 2021 is Sam's 10-year anniversary of working with WMA!!!
If you'd like to learn more about WMA-Brazil, click here.