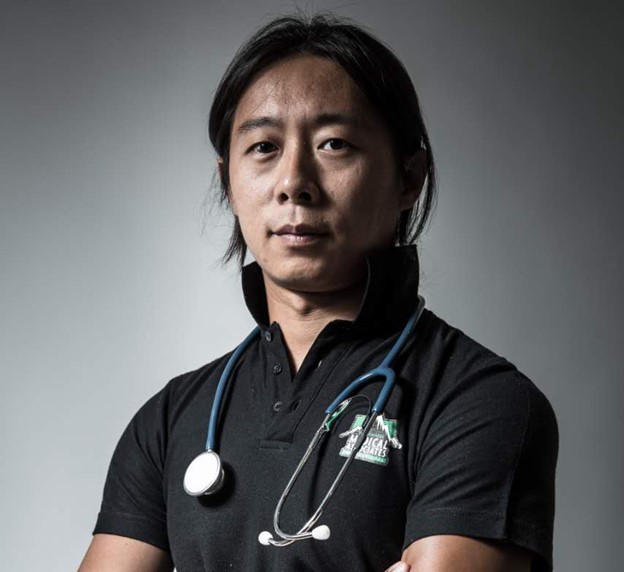 Sun Lingye is the founder and owner of Wilderness Medicine Associates (WMA) Asia based in Hong Kong. Originally from Chengdu, China, (the capital of the Province of Sichuan, located at the base of the Himalayas), Sun now lives in Taiwan with his family. After several years of guiding rock climbing and mountaineering trips, Sun worked as an outdoor educator. He was introduced to WMA in 2006 as a student, also serving as the translator in a course taught by a Canadian instructor. Sun was impressed with and inspired by WMA's curricula – thus began his journey with WMA.
Sun became an adjunct instructor and translator for WMA in 2008 and an assistant instructor in 2009. To become a lead instructor, Sun needed to earn his EMT certification. He invested his life savings to fly to the U.S. to take a month-long WEMT course. Soon thereafter, he completed WMA's lead instructor training. To be assessed, Sun had to teach courses in English, so over the next few years, he would return to the U.S. and Canada for two-month stints to teach courses with different lead instructors. In 2012, he became a lead instructor.
In 2014, he served as the Medical Consultant for the Shantou University's Arctic Team on an expedition to Antarctica. He then founded an outdoor education program called Terratribes Expeditions, which drew the likes of Alex Honnold. He then founded WMA Asia, with the goal of expanding wilderness medical training to Southeast Asia and adapting WMA's curricula to the local language and culture – the only wilderness medical company in China to do so. WMA Asia now offers 130+ courses a year (pre-pandemic) in Southeast Asia, including 20+ courses in Thailand. He recruits students from Malaysia, Vietnam, Singapore, India, Pakistan, Nepal, and Macao.
Currently, Sun is adapting the WMA curriculum to an online hybrid format. His goals are for wilderness medical professionals to have the ability 1) to access the educational tools more easily, 2) to recertify remotely on an annual basis, and 3) to adapt the curriculum to the diverse learning styles of students. The combination of learning modules, forums, Zoom live sessions, videos, and the like, instead of textbooks and Word documents, meets students at their comfort level. Once students pass the online course, they must participate in a live skills practice session and be assessed for competency by an instructor. WMA Asia is currently running these hybrid courses, constantly evaluating and improving the model.
When he's not running WMA Asia, Sun is an avid climber and mountaineer, as well as the father of a 3-year-old and an 18-month-old.
We asked Sun: What are the defining moments of your career thus far?
"When I realized I like teaching. The reason I chose to teach is that I enjoy delivering useful information to people that will save someone's life. Once you get that story one time, you're satisfied."
In Sun's case, he remembers the story told by one of his former students. The student told Sun that after his WMA course his crew rescued a mountaineer suffering from hypothermia and high-altitude cerebral edema (HACE), managing the evacuation and ultimately saving the mountaineer's life.
We asked: What do you believe are the key attributes to a successful wilderness medicine instructor?
"1. Wilderness – that you have significant background knowledge and experience in the wilderness.
2. Medicine – that you've had significant time practicing the skills you teach.
3. Education – that you can deliver the right information and present it in a way that your students can remember and use it."
What is the one thing every person teaching wilderness medicine must know?
"Understanding medicine is messy – medicine is dynamic and there is no black and white. Students always ask 'what is the answer' and my response is always, 'It depends.'"
If you'd like to learn more about WMA Asia or Terratribes Expeditions, click the links below.
WMA Asia: https://cn.wildmed.asia/en
Terratribes: https://terratribes.com/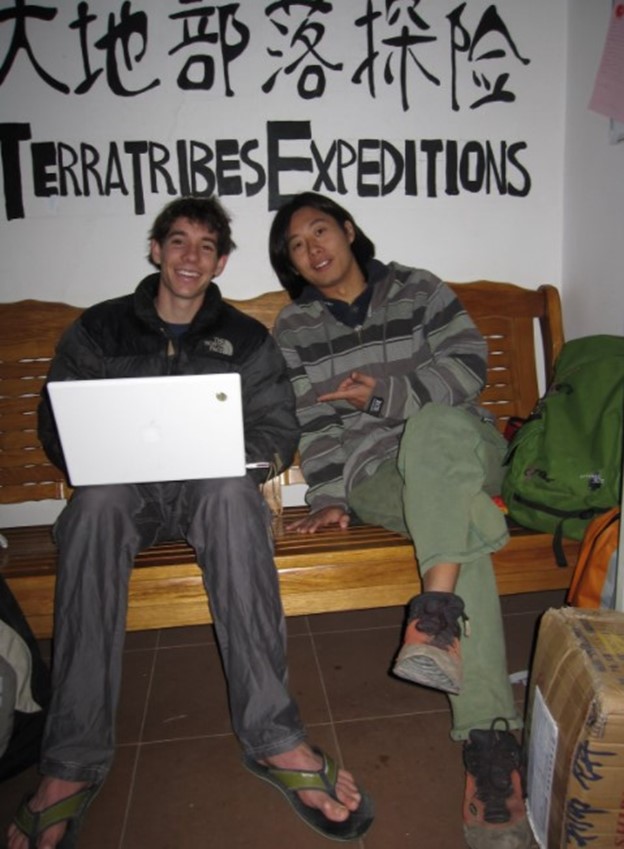 From left to right: Alex Honnold and Sun Lingye