In the quarter-century that Susan Purvis has worked with WMA, she has been to the hottest, coldest, and highest places on the planet as a wilderness medical specialist, as well as all seven continents. Her journey with WMA started in Crested Butte, Colorado when Susan and her husband commuted to the last great Colorado ski town from the Dominican Republic, where she was working as a gold exploration geologist. 
In search of passion and purpose, Susan became a ski patroller. Her journey into wilderness medicine began the day she heard of an urban avalanche that buried three toddlers, just across the street from the resort where she worked. Unfortunately, the avalanche dog that was deployed was unable to locate the last of the toddlers. Susan thought: what if I train a dog to better seek out people buried by avalanches? With no previous knowledge of search and rescue, medicine, avalanches, or dog training, Susan bought a 5-week-old black lab named Tasha and began training her to do just that. 
In 1997, while working at a medical clinic, Slopeside, Susan met Jeff Isaac, WMA's curriculum director. Jeff mentored Susan and eventually, became business partners. The two started Crested Butte Outdoors, a wilderness medicine and safety training company. Through her company, Sue has trained physicians, elite Military teams, the FBI, Secret Service Agents, and Sherpa Guides in Nepal, among others.  
Today, Susan has expanded Crested Butte Outdoors to her current home in Whitefish, Montana where she teaches a variety of WMA courses, as well as avalanche courses. In the summer, she rafts and explores the wilds of Montana, and teaches in the fall, winter, and spring.  
Susan has an affinity for indigenous cultures and uses her skills to enhance the standard of wilderness medical training in high altitude guiding companies servicing both Mt. Everest and Mt. Kilimanjaro. In 2005, she started a high-altitude medical school for Sherpas and the African guides. Susan believes that education is power. Through her efforts, the Sherpas she trains have become the first mountain rescue team on Mt. Everest and have moved on to international acclaim guiding the Seven Summits, boosting both their salaries and livelihood.  
Most recently, Susan returned from a two-week training for an elite military group at Snowbird Ski Resort in Utah, where she instructed courses covering mobility in winter environments, staying healthy, and avalanche education. 
WMAI: "What is the one thing every person teaching wilderness medicine must know?" 
Sue: "The biggest takeaway I teach is to anticipate your problems. Always ask: what if? How am I going to manage someone if something goes wrong? WMAI sets students up to be amazing guides and leaders, and taking a wilderness medical course is the most valuable thing you can do to prepare yourself for this role. Wilderness medicine training teaches you to be both responsible and accountable, two key lessons that you will use for the rest of their lives." 
WMAI: "What is the strength of the WMAI curriculum?" 
Sue: "The WMAI body systems-based curriculum makes medicine both understandable and attainable. By using this approach, we help our students understand how the circulatory, respiratory, and nervous systems work. If you understand how they work, you can identify if one of the systems has a problem and arrive at the right solution. At that point, you either have the tools to fix the problem, or you need to evacuate the patient. Evacuations might be slow or fast, it depends. Understanding how the body works is easy – the how and when to evacuate is difficult." 
WMAI: "What words of wisdom do you offer your students so they can deal effectively with difficult situations?" 
Sue: "If you're ever wondering what to do, remember to introduce yourself, give them sugar, and get them off the ground. In my words: 'Hi. My name is Sue. Have some GU, and put this under you.'" 
MORE ABOUT SUSAN: 
If you'd like to learn more about Susan, please check out her book, entitled: Go Find: My Journey to Find the Lost – and Myself. 
Book link: https://susanpurvis.com/go-find-book/ 
Crested Butte Outdoors: https://www.cboutdoors.com/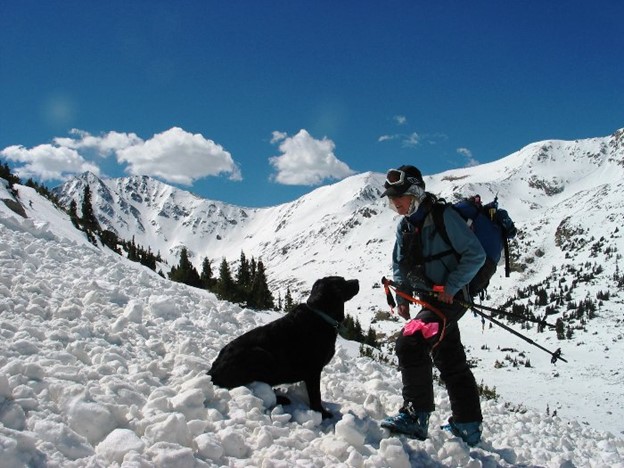 Susan with her avalanche dog