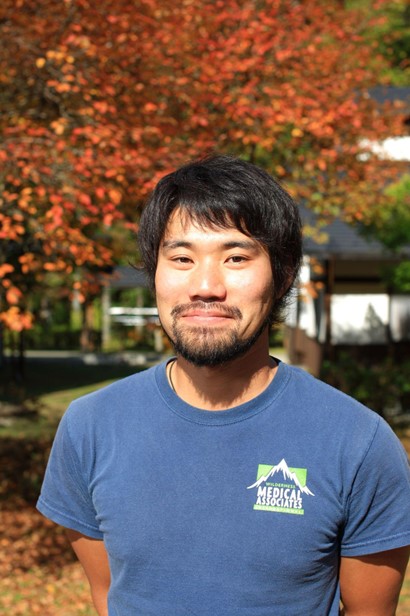 After attending high school in Japan, Takuya Ota ("Tak" as he is known to his friends and family) moved to the U.S.A. to study at the University of Nevada, Reno, and Thompson Rivers University in British Columbia, where he completed two degrees specializing in Sports Science and Adventure Tourism. Tak's adventurous spirit and comfort with life on the move are exemplified in his numerous extended bike packing trips, mountaineering experiences, and ease of finding connections and community in every corner of the world.  He now splits his time between Whistler, British Columbia, where he works as a paramedic, and Japan where he oversees WMA Japan's operations, and instructs courses.
Tak's journey to becoming a wilderness medicine instructor was greatly influenced by a job he secured early in his career as a guide in the Swiss Alps. During his many trips taking parties from Japan up the peaks, valleys, and glaciers of Switzerland, Austria, France, and Italy, he observed a few accidents that compelled him to enhance his ability to respond to and manage emergencies in backcountry settings by taking a WMA course.  Tak thought, "I want to have the skills to ensure that my friends will not experience the kinds of scenes I witnessed."
After his time guiding in Europe and being equipped with new experiences and knowledge, Tak observed that training in wilderness medicine was sorely lacking among those who worked and played in the mountains of Japan. So, Tak returned to Japan eager to begin his journey to becoming a WMA instructor, so he could eventually make a positive impact on Japan's outdoor community. Tak began taking his WMA instructor courses in 2011.  Then, after numerous trips back to Canada and the U.S.A. to study under other lead instructors across North America, as well as learning from WMA lead instructor David Ramsey in Japan, Tak became a lead instructor himself in 2013. His instructing style puts emphasis on students learning not just the "how" but also the "why" behind wilderness medicine and emergency response to encourage students to practice skills. In reflecting on his teaching style, Tak explains, "instead of just teaching ABC we should teach you why we do ABC.  People will realize and understand and it will stick in their brains longer."
In addition to teaching classes all over Canada throughout the year, Tak journeys back to Japan every spring and fall to assist WMA Japan and provide instruction in Japanese and English to people interested in gaining the specialized knowledge and skills offered in WMA courses. Tak, and the other co-director of WMA Japan, Isamu Yokobori "Sam, have been instrumental in navigating cultural differences between North American and Japanese approaches to medical care and skills training, as well as ensuring that the WMA curriculum is translated and delivered to Japanese students in the most effective manner. 
Finally, when he is not working with WMA Japan or serving as a paramedic, Tak owns and operates two Japanese restaurants (Samurai Sushi and Samurai Bowl) in Whistler,  In his free time, he can be found ice climbing, rock climbing, mountain biking, and skiing in the mountains of the Fitzsimmons Range that surround Whistler.
WMA: When you think about your career as an instructor, are there any defining moments that helped you clarify for yourself, "this is why I do this?"
Tak:  The reason why I still like to keep instructing is that I received a lot of positive feedback from my students, including some really life-changing moments that they experienced where the reason why they survived is because of what they learned in the course. I give those students a great deal of credit for being so dedicated to the course and for investing time in studying so they could survive difficult moments and in many cases help their friends survive too.  Those stories really motivate me to continue this work.   
The other thing about being an instructor for WMA is that it allows me to travel, learn about a host of different places, meet people from different cultures, experience remarkably beautiful scenery, and enjoy the best parts of all four seasons, especially in Japan.  
I also enjoy the challenge of shifting the outdoor culture in Japan towards providing a safer experience for those traveling in remote areas. We are still in an early phase now in this industry in Japan. In the beginning, we needed to introduce the idea of wilderness medical training to almost everybody, requiring us to always be on our toes. We are still always on the lookout for opportunities to explain who we are, what we're doing, and why we are passionate about the courses we offer. Otherwise, we cannot change perception and convince them that this type of training is incredibly valuable.  
WMA: Knowing that many of your students are in professions that include ski patrollers, mountain guides, rafting guides, etc., what are the key takeaways that you want your students to have at the end of the course? 
Tak: Unless the student is a professional guide and happens to see a lot of casualties or serves as a paramedic, the student will not have opportunities to practice their skills between the WMA course and the event. Taking the course and gaining the certification is one thing, but being practical and helpful is the more important thing. So in my courses, I tell my students the following: the reality is much harsher than this course.  In the moment when an emergency happens, you will sit down in front of the patient, knowing you have to deal with the situation.  You will probably panic a little and your mind will not be able to recall anything from your WMA course. So, be sure you have the WMA Field Guide to help you remember the key steps to take. Also, have something that you can write with, trust your guts, act, and have confidence that your efforts will be helpful.  The actions you take as a WMA graduate will certainly be better than anything that you might do randomly. 
I certainly do not expect a student who took a 4-day course two years ago to remember precisely everything that they learned. So that is why I encourage my students to have the WMA Field Guide handy in their backpack and buy another one for the dashboard of their car so they always know in the corner of their brain that there is a Field Guide nearby. Once they open it they are going to remember.