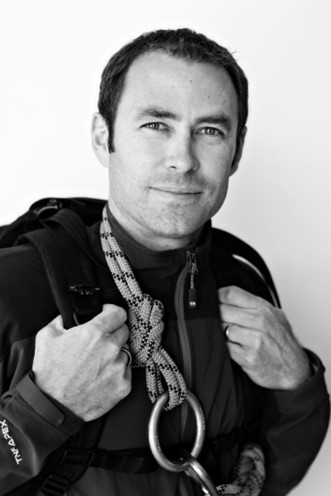 We are excited to introduce WMA Instructor Will Smith as the incoming Medical Director for WMA International. Will's array of personal and professional pursuits allows him to understand the practice of medicine in remote areas with limited resources. These qualities, along with his depth of understanding and appreciation for the WMA curriculum, make him a compelling choice for the next medical director, and a valuable addition to the WMA Headquarters team. We invite you to take a few moments to learn more about Will's journey. 
The early part of Will's life took place near Wheatland, Wyoming where, as a young man, he worked alongside his father on a 22,000-acre cattle ranch. He "caught the medicine bug" in high school when he took his first EMT class during his senior year. He then proceeded to earn his bachelor's degree in Molecular Biology and Pre-Medicine at the University of Wyoming. Soon after, Will continued to develop his emergency medicine skills as an ED tech and a member of the local ski patrol, and also became a paramedic. Will then took another step forward into medical school, enrolling in the University of Washington's WWAMI (Washington, Wyoming, Alaska, Montana, Idaho) program. His education included one rotation in Australia where he learned to scuba dive, and another in New Zealand where he gained further experience in rural international medicine. An Emergency Medicine residency took Will to Milwaukee, Wisconsin where he continued to expand his skills and became keenly engaged in flight medicine.  
During the Iraq War (OIF), Will served in the U.S. Army Reserve, honing his tactical and combat medicine skills during three combat tours in the Middle East, including the Baghdad ER where Will learned the value of a tourniquet. Will is now a Colonel in the U.S. Army Reserve Medical Corps. He has had several other deployments including Croatia, Egypt, El Salvador, and Panama.  
Will became acquainted with WMA back in 2004 when he took his first Wilderness Advanced Life Support (WALS) class and met David "DJ" Johnson and Jeff Isaac. He then taught many WALS classes for the next several years. When asked about his thoughts on Will Smith, DJ offered the following: 
"Will demonstrates both intellect and vision in all that he does. By having substantial involvement in a range of venues (education, EMS, military, SAR, etc), Will has become an effective collaborator in part by carrying over what he has learned in one place, to enrich another. This will continue to allow him access to a wide range and depth of science and experience from which to keep our curriculum fresh, accurate, and practical. None of Will's success would be possible, however, without his ability to listen and process with an open and compassionate personality. On top of all that, he is just a decent soul. Will offers the kind of support and direction that WMAI needs moving forward." 
Since 2004, Will Smith has enjoyed his "dream job," i.e., working as a full-time Emergency Department Physician at St. John's Health in Jackson, Wyoming. He is also a Clinical Assistant Professor at the University of Washington School of Medicine and runs Wilderness & Emergency Medicine Consulting, LLC, advising clients around the world on how to save lives in the wilderness and remote environments.  
In addition, Will currently serves as the Co-Medical Director for several organizations in the Jackson, Wyoming/Teton area: Grand Teton National Park, Teton County Search and Rescue, Jackson Hole Fire/EMS, and Bridger Teton National Forest. He has been an essential part of the emergency response in Jackson Hole, responding to car and motorcycle wrecks, tumbles from horses and mountain bikes, bear attacks, strokes and heart attacks, river rescues, cave rescues, and avalanche recovery. In 2010, Will was a vital part of one of the largest rescue events in Grand Teton National Park history, involving 50 rescuers and multiple helicopters, eventually saving 16 of the 17 climbers who were struck by lightning near the summit of Grand Teton. In 2017, he was also part of a team that saved the life of a 61-year-old skier who was in cardiac arrest at 9,557 ft. on Maverick Peak in Grand Teton National Park, earning him the Citizen's Award for Bravery from the US Department of Interior.  
Among this already impressive list of professional "hats," Will has also been involved in numerous speaking engagements around the world, has published articles and book chapters, has been appointed to several national committees, and holds many professional memberships. When he is not working, he loves to immerse himself in the outdoors. He has summited mountains all over the world including Mt. Kilimanjaro and Mt. Orizaba. He also scuba dives, treks, and competes in endurance races. He is married and has an 18-year-old daughter and a 16-year-old son to whom he shares his love of the outdoors.
WMAI: What is a skillset or bit of knowledge that you think is vital for students of wilderness medicine to take away from training? 
Will: The number one rule is "don't freak out." It is necessary to have a clear head and to be able to process the situation. Whether it's an active shooter event, a car accident, or something happening in the backcountry, the goal is to remain calm so that you are able to process through the situation, and then the medicine comes after that. If you're freaking out, you're not going to remember any of the medicine that you were taught or be able to utilize the common sense that you need to get out of the situation. 
 WMAI: What do you believe is one key attribute of a successful wilderness medical professional? 
Will: Being prepared. You can't prepare for every situation, but you can prepare for a lot. With my military experience, three deployments to Iraq, Kuwait, and combat zones, I have found that it's really important to be able to recognize the immediate life threats and reversible life-threatening conditions, and that's where you're really able to make a difference. There are going to be patients who die regardless of what we do and patients who are going to live regardless of what we do, so it's really in that middle subset of people where your skills and experience are going to save a life. 
WMAI: What do you see as some of the most significant advances in wilderness medicine in your career? 
Will: One significant change in wilderness medicine is the merging of what we knew as the right medical practices in remote/austere/wilderness settings now becoming common practice in "front-country" EMS. This includes things such as spinal motion restriction, draw up epinephrine for anaphylaxis, shoulder, digit, and patella joint reductions, etc. 
WMAI: What role do you think WMA has played and will continue to play in the field of wilderness Medicine? 
Will: WMA has been a leader in the field of wilderness medicine and has been the educator of many around the world in this field. WMA's efforts have led to many lives saved. I am excited to continue to examine best practices in managing reversible life-threatening events like blood loss and respiratory or cardiac emergencies in remote/austere/wilderness environments.