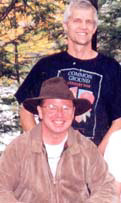 The Father of Wilderness Medical Associates
When Peter Goth graduated from Tulane University Medical School in 1972, wilderness emergency medicine had not been born. Training for EMTs was based entirely on protocol with heavy emphasis on memorization of signs and symptoms and focused on stabilizing the patient until arrival at a hospital emergency room.
Dr. Goth was one of the first to recognize that medical emergencies in wilderness and remote settings required a different approach. He developed a wilderness medicine training system that utilized a body-systems approach to teaching combined with simulations and other hands-on learning.
Dr. Goth practiced emergency medicine in northern New England and pursued a wide variety of outdoor activities – everything from expeditions in the Himalayas to whitewater canoe trips down the Penobscot River in Maine. During the late 1970s he combined emergency medicine with his outdoor passions by volunteering for Hurricane Island Outward Bound courses off the coast of Maine.
In 1980 Outward Bound approached him and asked him to teach a wilderness first aid course to their instructors. The course was a huge success and by 1984 Outward Bound was once again asking him to conduct another such course. By this time, others in the medical field were attempting to teach wilderness medicine courses. However many of these efforts were of little lasting value due to lack of preparation and commitment.
Dr. Goth realized that to adequately teach wilderness emergency medicine required more than the effort of well-meaning volunteers. He agreed to train the Outward Bound instructors with the agreement that the training would be professionally presented. With that he established Wilderness Medical Associates in 1984.
He established a collaborative group of professionals at Wilderness Medical Associates that included Jim Morrissey, NREMT-P and Dr. David Johnson. Both are still with the company and Dr. Johnson purchased Wilderness Medical Associates in 1998 and now is the Medical Director. Dr. Goth paid many of the company expenses out of his own pocket, continuing to work as an emergency physician. It was a number of years before he was able to cover out-of-pocket expenses with company revenues. Wilderness Medical Associates and wilderness medicine was first and foremost a passion for him.
Since the founding of Wilderness Medical Associates, many other wilderness medicine training companies have opened with much of the curriculum and methods based on Dr. Goth's approach. Wilderness Medical Associates has since grown to be the world's leading wilderness medicine training company with over 100 instructors teaching over 350 courses annually around the world.
Dr. Goth practices emergency medicine on the Maine coast and, with his wife, operates a large farm with cashmere goats among other animals.