Meet Julie Harjung
Julie is one of those incredibly interesting individuals with more years of experience than most of us. She retired October 2021 from the New York State Department of Conservation after 25 years as a Forest Ranger, is still active with the local rescue squad, and is scheduled to finish the NYS Department of Health Paramedic Course in January.
Julie has always been a wildlife buff, involved in wildlife rehabilitation, and the handling of birds of prey for education. After two years at Morrisville College, Julie transferred to Oswego State where she studied Zoology. After graduation, she began substitute teaching and eventually took over a class for a fellow teacher before figuring out that teaching in a traditional classroom setting was not for her. Around the same time, Julie had the opportunity to serve as an intern at Stoney Kill Farm Environmental Education Center in the Catskills doing environmental education. These experiences inspired a deep appreciation and love for education.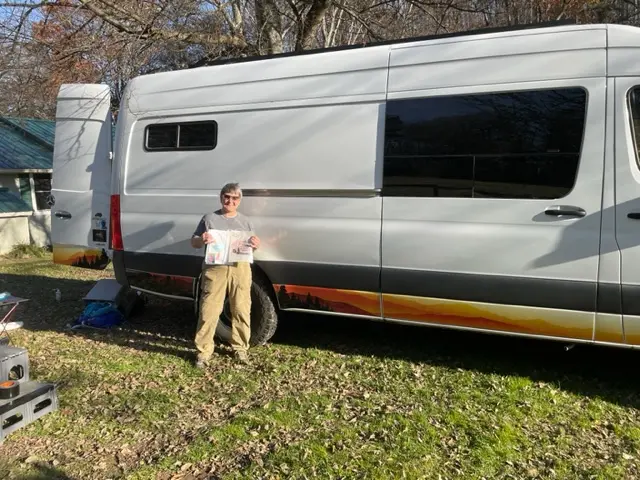 It was through that internship she learned about the civil service test to become a Fish & Wildlife Technician. After passing the test, Julie spent the next six years bouncing back and forth between seasonal jobs in fisheries and wildlife. She also spent time as a Patroller at Bellaire Ski Center, worked in Wildlife Pathology, and served in the Special Licenses Unit in Albany, NY. Eventually, she took the Forest Ranger exam and was selected for the Forest Ranger Academy. Julie always looked for a career that would allow her to be happy to go to work every day, so for her the Forest Ranger job was "spectacular!" And it is worth noting that Julie was the first female Forest Ranger to be promoted to the position of Lieutenant in New York!

Julie believes one of her biggest contributions was getting the WMA International program initiated for the Forest Rangers. When she first joined the Rangers, she was very attuned to the fact that the standard training for Forest Rangers was not sufficient. She looked into every medical program available at the time and decided that WMA's training was the best program for their needs. Julie took her WMA Instructor training in 2000 with two other Rangers, and the program's involvement with WMA has grown tremendously from there. Julie still teaches locally in the Adirondacks where she lives.
Julie is just returning from her retirement gift to herself: a 5-month "Smile Tour" of the USA and Canada, where she was able to do as much mountain biking in as many different places as possible and to see some pretty incredible sights, including the Wave in Arizona and a little pond in Rocky Mountain National Park where she was able to capture five moose in one camera frame.

WMA: How do you make sure your teaching is relevant and helpful to your students/past students?:
Julie: When we're doing trainings with the Rangers, we try to incorporate actual incidents in which other Rangers have taken part. Those scenarios are some of the best tools for learning because they simulate real situations that students might encounter. For example, before I became a Ranger there were 14 people who were struck by lightning on the top of Wright Peak. So when we're speaking about lightning you better believe that I use that scenario every time.
WMA: What are some attributes you believe are key to being a successful wilderness medical professional?:
Julie: Critical thinking in situations that are never perfect. You may have to move somebody in a way that isn't ideal, but you know there's a lightning storm coming, and you need to get them and yourself to safety. You also have to be confident in your skills. Whether you volunteer with a rescue squad or with ski patrol…it's helpful to do something so that you keep using the skills. These skills are perishable, and if you don't use them you're not going to feel comfortable and confident when you really need to.
WMA: What attracted you to the WMA training?:
Julie: One of the sayings that I learned in my academy was "practice like it's real and when it's real it will be like practice." That idea is something that is really special about the WMA training because it is built into the core of the curriculum. Yeah, it's a little silly dressing up and putting fake blood on people, but it really does give that extra sense of adrenaline like it's a real incident. Having "patients" who are really screaming in your face and staying in character is just such a spectacular training technique.