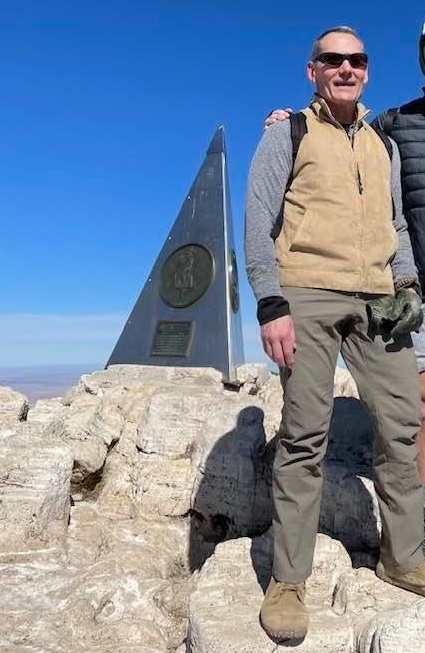 Jeff Kerby
Location:
TN, United States
Certifications:
WFR, BLS, NCCPA, Tennessee Board of Medical Examiners PA License, DEA, NPI, TN Peer Recovery Specialist
Description:
Jeff grew up on the waters of Long Island Sound in Darien, Connecticut, so his outdoor adventures began sailing the (sometimes VERY) high seas of the Sound and the Atlantic Ocean. He joined the US Marine Corps in 1979 and began 38 years of service in the USMC, then Army National Guard, and finally, the Army Reserve experiencing outdoor adventures of a different kind. Having spent 7 years as an Infantry Officer in the ARNG, he was given the opportunity to switch branches and become a Physician Assistant for the Army in 1996. He began the civilian side of that new career at a Lexington Family Practice Clinic in Lexington South Carolina. He has worked  as an Emergency Room PA at Aiken Regional Medical Center in Aiken, South Carolina, an Urgent Care PA here in Nashville, TN for St Thomas Medical Partners and now, HCA's Care Now Clinics. He is also a Recovery Assistant for Cumberland Heights Adult Substance Abuse Treatment Center in Nashville.
Jeff has been as an Army Physician Assistant with 4 overseas tours and yearly training at a variety of bases in the US. From the Mohave Desert to Afghanistan, Kuwait, Saudi Arabia and, most recently, The Horn of Africa, he has been a provider and trainer for medics, doctors, nurses, NPs, and fellow PAs for over 25 years. He has been a Medical Platoon Leader, Battalion Physician Assistant, Medical Battalion Commander, Medical Brigade Commander, and Deputy Surgeon Task Force Horn of Africa. He retired at the rank of Colonel on 1 July 2021
Jeff's personal outdoor recreation adventures including training for and competing in Triathlons, mountain biking, hiking, and anything on the water, preferably something that has a sail.
Jeff is husband to Trish for 38 years, has two adult children with spouses and two grandchildren. He lives in Nashville, Tennessee.