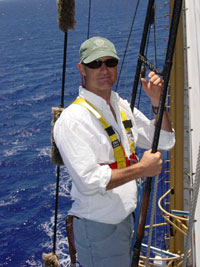 Jeffrey Isaac, PA-C, WEMT
Location:
CO, United States
Certifications:
PA-C, WEMT
Description:
Jeff is a licensed physician assistant and WEMT with a particular interest in backcountry and marine medicine. His 40 years of professional experience includes service as an ambulance and fire/rescue crewman, professional ski patroller, and medical staff in hospital emergency departments and ski area trauma clinics. He has also been a senior instructor and course director with the Hurricane Outward Bound School and has worked as mate and licensed captain aboard sail training vessels from New England to Trinidad.
Jeff is currently the Director of the GVH Mountain Clinic in Crested Butte, Colorado, where he also serves as a team leader and medical officer for Crested Butte Mountain Rescue. Jeff is the Curriculum Director for WMAI™ and author of The Outward Bound Wilderness First Aid Handbook and co-author of Wilderness and Rescue Medicine, used as WMAI textbooks worldwide. See his website at MedOfficer.Net.