by: Greg Friese, MS, NREMT-P, WEMT
2008 May 16
"Greg can you take a look at this," one of my hunting companions asked from the other side of the cabin. I dread this question. My response is always "what do you think it is and where exactly is it?" As the only medical provider in my hunting party I've become the "camp medic." Each fall my companions ask me to prepare the cabin first aid kit and make suggestions to prevent illness or injury. This includes, the simple things such as suggesting, "let's do the chain saw work before cocktail hour" or "don't fall asleep in your tree stand because you might fall."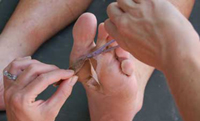 Are you the camp medic at your hunting camp? Are you the safety officer for your child's scout outing? Do friends and family turn to you when someone becomes sick or injured during a backcountry adventure or wilderness expedition?
If you haven't yet experienced the role of trip medic or camp doc, you might in the busy summer months ahead. By virtue of your experience, training or title others expect you to act "on three" if a first aid emergency arises during an outdoor adventure – even when you're off-duty. Use the following three tips to help you be a good trip medic.
1. Preparation
Novice bikers will experience different injuries and illnesses on a mountain bike trip in the arid Southwest than experienced hikers in the Pacific Northwest. Your duties as the trip medic begin by answering several questions before the outdoor program, adventure or outing begins.
Who's in your group?
What's the activity?
What's their experience in the activity?
How long is the activity?
Where are we going?
How remote is the location?
How do we call for help?
What weather do we expect to encounter?
What risks are associated with the activity, hazards and weather?
Will we be at a fixed location?
Your answers will help you determine the necessary first aid supplies, appropriate safety equipment, emergency communication plans and treatments you might need to provide. During an overnight summer hiking trip with friends, I expect to treat blisters and prevent GI illness with good personal hygiene (i.e. hand washing). On a day-long snowshoe trip I'm still worried about blisters, but I'm also watchful for signs of hypothermia or cold injury.
In addition, it's good to know about any current illnesses or injuries, as well as pre-existing medical conditions, your fellow adventurers may have. One of my hunting companions is a diabetic. If he's not back to the cabin just after dark, we know to go look for him immediately.
For an organized group outing, such as a Boy Scout trip, parents might be asked to fill out a health history and medication form before the trip. For less formal outings, such as my fall hunting trips, I usually ask if anyone has medical conditions I should know about before the hunt starts. Use health history and medication information to prevent and anticipate potential illnesses or injuries.
2. Early intervention
Jamie and Tom were traversing the cold Little Wolf River in a rickety canoe. Tom made a sudden movement, and the canoe capsized. They were soaked from head to toe. They were already shivering and anxious after hiking back to the unheated cabin because mild hypothermia, without immediate intervention, can proceed to severe hypothermia.
As the camp medic, it's important to recognize minor and easy-to-treat problems and intervene before they become life-threatening problems. For Jamie and Tom, the immediate treatment was to end the cold challenge, feed their shivering with calories and warm fluids, and monitor them for signs of improvement. Mild hypothermia is easy to prevent and easy to treat. Severe hypothermia is preventable, but very difficult to treat.
My goal as the camp medic is always to ensure participants' safe continuing participation in the activity by recognizing potential hazards for illness and injury and by intervening early. For example, an often-overlooked hazard — especially for children — is sunburn. In addition to using clothing and sunscreen for prevention, intervene early by modifying activities to reduce sun exposure during the hottest and sunniest part of the day. Also, begin pain control with NSAIDs and make sure the patient has adequate oral hydration. A superficial sunburn of the entire back or chest can limit participation in almost any outdoor activity.
Blister care is another early intervention to begin to treat a friction burn before it worsens and becomes infected. Treating a hot spot is much easier than cleaning and bandaging a large, fluid-filled blister that has burst and has sand impacting in the avulsed tissue.
3. Get help
Multiple families were vacationing at a remote state forest group camp. An 11-year-old boy was carrying a bag of garbage with several broken glass bottles. The glass pierced the plastic, and as the bag swung by his leg he gave himself a 15-cm gash in his left thigh that was 2-3 cm deep. The bleeding was reported to the 9-1-1 operator as profuse and uncontrollable. It was going to take us about 45 minutes to reach the remote campsite.
Fortunately, a paramedic in the group who was thrust into the role of trip medic recognized severe bleeding and controlled it with a pressure dressing. She also knew the boy needed additional assessment and treatment at the hospital.
Your patient's condition may change over time because other help might be delayed. Patient care might be prolonged — measured in hours instead of minutes. As the trip medic you need to assess the current situation as well as anticipate potential problems. In this incident, the actual problem was the boy's leg laceration. Potential problems included shock if the bleeding couldn't be controlled, underlying tissue and musculoskeletal damage because of the depth of the cut, and wound infection.
A quality assessment that determines the problems the patient does and does not have helps you determine if an emergent evacuation is indicated. In this case, the camp medic's on-scene treatment — bleeding control — meant the boy enjoyed a non-emergent evacuation to the nearest hospital.
When determining whether help is needed — either with patient evacuation or care — consider the presence of any of these (or other) red flags:
Loss of consciousness
Persistent vomiting or diarrhea
Blood in stool, vomit or urine
Localized pain
Persistent pain
Impaired extremity circulation, sensation or motor function
Injury or illness unresponsive to treatment
Impaired vision, hearing, balance or ability to swallow
Persistent fever
Persistent or worsening respiratory distress
Signs of shock
Finally, just like you might ask yourself if a patient is really sick, it's often helpful to ask yourself, "is this an emergency?" Remember, an emergency is a life-threatening problem, or a problem that could become life threatening, that you cannot treat or stabilize in the field. If it's an emergency, call for help or evacuate the patient to help. If an injury or illness could become an emergency, develop a treatment plan to monitor the patient and prevent their condition from worsening while you plan for or consider evacuation.
More information, resources and training
To learn more about wilderness and rescue medicine visit Wilderness Medical Associates. To better prepare yourself to become the camp doc or trip medic take a Wilderness EMT Upgrade or Wilderness Advanced Life Support course.
Build a camping or expedition first aid kit from supplies you have on hand that make sense for the activities, participants, season, location and anticipated risks, or buy a pre-packaged kit.
Greg Friese
President of Emergency Preparedness Systems (EPS) LLC, Greg Friese, MS, NREMT-, WEMT, is a paramedic, Wilderness Medical Associates lead instructor, outdoors enthusiast, conference speaker and author. EPS helps clients create, design, distribute and facilitate rapid e-learning for emergency responders. Greg and EPS associates have authored and edited hundreds of online lessons. Contact him by email .